Justus Ndukaife wins $1.9M from National Institutes of Health to build on foundational knowledge of nanoscale cellular particles
Justus Ndukaife, assistant professor of electrical and computer engineering, has received the Maximizing Investigators' Research Award of $1.9 million from the National Institute of General Medical Sciences. The funding will support Ndukaife's project, "Understanding the heterogeneity of nanoscale extracellular vesicles, exomeres and supermeres using next generation optical nanotweezers."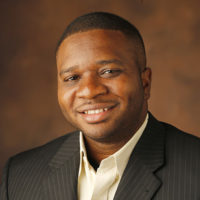 Nanosized extracellular vesicles and particles, though they vary in size and molecular cargo, are an important means for cells to communicate with each other. A significant research opportunity involves analyzing EVPs individually—including newly discovered exomeres and supermeres—to discern their biological roles in diverse diseases. (Exomeres and supermeres measure 35 and 25 nanometers in diameter, respectively, and a typical virus is about 100 nanometers wide.)
With the grant funding, Ndukaife and his collaborators will build on their previous work by creating a new optical nanotweezer approach to capture thousands of single EVPs within seconds and then analyze them to determine their individual biomolecular composition. The work has long-term implications in the fields of biology and human health and in the development of therapies for cancer and other disease.
"By trapping and manipulating the extremely minuscule extracellular vesicles and particles, which are thousands of times smaller than the thickness of a human hair, we aim to unravel the mysteries of how cells package molecules and interact with one another," Ndukaife said. "My ultimate goal is to revolutionize our comprehension of biological cells and push the boundaries of knowledge in the realm of extracellular vesicles, whose heterogeneity and functions have been challenging to unravel due to technological constraints."
Ndukaife's research is creating entirely new ways of investigating the chemical interactions that define life, said Bennett Landman, professor and chair of the Department of Electrical and Computer Engineering.
"His recent innovations have new temperature-stable and scalable manners of assessing interactions at the smallest scales of life," Landman added. "I am excited to see how Professor Ndukaife and his team transform our understanding of nanoscale interactions."
The award through the division of the National Institutes of Health will give Ndukaife the opportunity and flexibility to embark upon ambitious projects that help scientists better understand cellular communication.
"I am thrilled to be honored with the prestigious NIH R35 MIRA Outstanding Investigator Award," Ndukaife said. "As both an engineer and a scientist, I find myself deeply inspired to break new ground in the development of cutting-edge light-based tools for biomolecular manipulation."
The development of optical tweezers was recognized with the 2018 Nobel Prize in Physics for their efficacy in trapping single cells and larger EVs. Ndukaife developed the first-ever stand-off optical nanotweezers that can trap and manipulate objects on the sub-10 nanometer scale at Vanderbilt in 2020.
The NIGMS supports basic research that increases understanding of biological processes and lays the foundation for advances in disease diagnosis, treatment and prevention.
Contact: marissa.shapiro@vanderbilt.edu