Piran Kidambi receives Chan Zuckerberg Initiative grant to further quest for first-ever high-res imaging of live viruses
Piran Kidambi, assistant professor of chemical and biomolecular engineering, has been awarded a grant to further his research into capturing high-resolution images of live viruses in tissues. The three-year grant from Chan Zuckerberg Initiative's Frontiers of Imaging is one of 20 awarded worldwide with the aim of revolutionizing the study of viruses, human health and vaccines.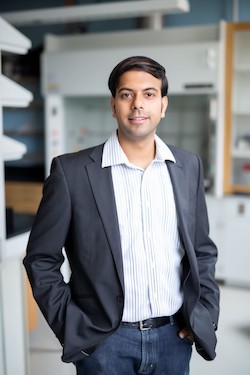 "Visualizing viruses in the native state has been an elusive scientific challenge for several decades. Our research aims to enable this for the first time," Kidambi said.
His project will work to develop devices to enable direct imaging of live viruses—which would allow scientists to witness the physical changes to viruses in real time.
Kidambi's research is focused on understanding the synthesis of nanomaterials for health care, energy, electronic and catalytic applications. The success of this project could dramatically improve virology, vaccine development, oncology and human health.
The Frontiers of Imaging program aims to "visualize life's processes at the molecular, cellular and system level—in real time, in the living organism and in a minimally invasive manner," said Cori Bargmann, Chan Zuckerberg Initiative's head of science.
This is just the latest in high-profile support that Kidambi has earned for his research. In June 2022, his work was selected to receive funding through the U.S. Department of Energy's Early Career Research Program. That program is designed to provide support to exceptional researchers during the crucial early career period, when many scientists conduct their most formative work.
Kidambi's application for the CZI grant was supported by Janice Ascano and the team at the Vanderbilt office of Research Development and Support, which offers development assistance for proposals to be pitched to private foundations and federally funded opportunities. RDS services include searches for new sponsors, coordination and team building for proposals of any size, content development and draft review. RDS is in the Office of the Vice Provost for Research and Innovation. To learn more about RDS or to request services, email rds@vanderbilt.edu.
About the Chan Zuckerberg Initiative
The Chan Zuckerberg Initiative was founded in 2015 to help solve some of society's toughest challenges—from eradicating disease and improving education to addressing the needs of our communities. Through collaboration, providing resources and building technology, its mission is to help build a more inclusive, just and healthy future for everyone. For more information, please visit chanzuckerberg.com.
Posted on Wednesday, February 8, 2023 in Chan Zuckerberg Initiative, nanomaterials for health care, Piran Kidambi, viruses,Chemical and Biomolecular Engineering, Home Features, News, News Sidebar, Research