Team of Vanderbilt experts selected to develop low-cost training tools aimed at expanding global access to minimally invasive surgeries
Project will be led by Mechanical Engineering Professor 
Nabil Simaan
, a globally renowned expert in robotic surgery
A multidisciplinary team from the Vanderbilt Institute for Surgery and Engineering has received a multi-year, multi-million dollar contract to develop a low-cost simulation tool to train medical personnel in Kenya to perform minimally invasive laparoscopic procedures.
The project will be led by Nabil Simaan, professor of mechanical engineering and a globally renowned expert in robotic surgery. It is part of Wellcome Leap's "Surgery: Assess/Validate/Expand" (SAVE) initiative that awarded similar grants to 13 teams from leading academic institutions and corporations. The goal is to find solutions that allow safer, minimally invasive surgeries for a wider swath of the global population.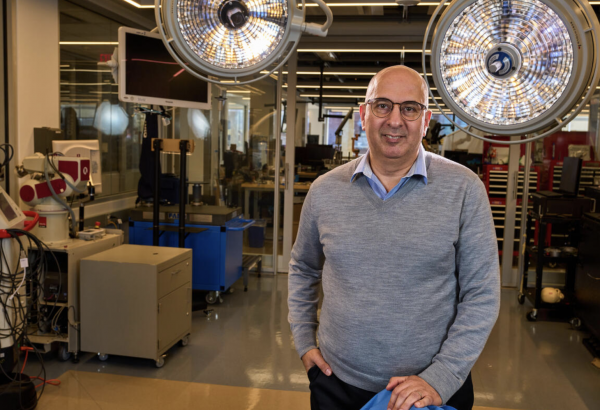 "The leading causes of surgical-related deaths in Africa are due to wound-site infections, sepsis, hemorrhage and anesthesia complications," Simaan said. "Expanding the availability of minimally invasive, low-cost procedures such as laparoscopy can go a long way toward addressing these challenges."
The simulation environment proposed by Simaan and his VISE colleagues—as well as members of the Vanderbilt University Medical Center's Institute for Global Health—draws on augmented reality, machine learning, soft-tissue modeling, eye-tracking technology and assistive (haptic) force feedback to make training more effective for new users. The system will also be able to mimic the pressure needed for making incisions in soft tissue and to replicate organ shapes and common deformities.
Posted on Tuesday, February 7, 2023 in Kenya, laparoscopic procedures, minimally invasive surgeries, Nabil Simaan, SAVE, Vanderbilt University Medical Center's Institute for Global Health, ViSE, Wellcome Leap,Biomedical Engineering, Computer Science, Home Features, Mechanical Engineering, News, News Sidebar, Research