Vanderbilt computer scientist wins $3M grant to expand toolkit that tracks fetal growth during pregnancy
One way to monitor a healthy pregnancy is tracking placental growth because a healthy placenta is crucial for a healthy baby. However, there are no practical tools to monitor placental development—to ensure proper fetal growth—into clinical care.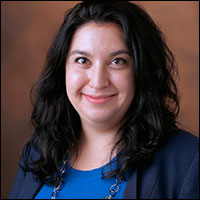 Vanderbilt University computer scientist and grant PI Ipek Oguz aims to expand a medical image analysis tool she developed, with researchers in the Perelman School of Medicine (PSOM) at the University of Pennsylvania, that tracks placental growth in relation to fetal growth and could better identify at-risk pregnancies. Currently, her innovative model requires a placental volume assessment that is impractical for clinical use. Nadav Schwartz, MD, an associate professor of Obstetrics and Gynecology at PSOM, is co-PI on the grant.
"The direct assessment of placental development is glaringly absent from clinical care as there are no practical tools that would help providers monitor it," said Ipek Oguz, assistant professor of computer science, whose research focuses on longitudinal medical imaging studies and machine learning to address biological problems.
Oguz and Schwartz won a five-year, $3 million grant from the Eunice Kennedy Shriver National Institute of Child Health and Human Development to enhance their image analysis tool, which would allow bedside volumetric assessment of the placenta throughout pregnancy.
The grant supports an ongoing collaboration with computer scientists, mathematicians and physicians to build on the current modeling tool and create a software program that presents a mosaic 3D view of the placenta through all three trimesters. Over five years, 1,000 patients will be monitored.
The new augmented version of the model will include later gestational ages and expand the toolkit to include measures of placental shape and blood vessels. "We'll have a volume, shape and surface analysis of the baby side and the mother side of the placenta," Oguz said.
 "We anticipate that this toolkit will significantly change clinical care and create a new, placenta-based paradigm for understanding and managing fetal growth disorders," Oguz said.
Contact: Brenda Ellis, 615 343-6314
brenda.ellis@vanderbilt.edu
Posted on Monday, March 13, 2023 in Eunice Kennedy Shriver National Institute of Child Health and Human Development, fetal growth, grant, Ipek Oguz, NIH, placental growth,Computer Science, Home Features, News, News Sidebar, Research