Vanderbilt engineering professor Joshua Caldwell elected Optica fellow
Joshua Caldwell, a professor of mechanical engineering and director of Vanderbilt's Interdisciplinary Materials Science (IMS) graduate program, has been elected to the 2024 Fellow Class of the Optica Society. Optica, formerly the Optical Society of America, is the preeminent professional society in the field of optics and photonics, with 22,000 members from 180 countries and 41 Nobel Laureates in its ranks.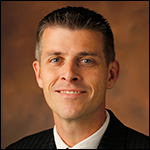 Caldwell is one of 129 members from 26 countries selected by the society's board of directors. Fellows are Optica members who have served with distinction in the advancement of optics and photonics. Caldwell is being honored specifically "for pioneering contributions to our understanding of the role of crystal anisotropy, phonons, and electron-phonon coupling for IR nanophotonics."
Caldwell's research focuses on the confinement of electromagnetic energy to the nano- to atomic-scale and the interactions between light and matter within confined systems. This involves confinement of light using 'polaritons' within the optical spectral domain (primarily the infrared), the design of nanoscale optical components, and identifying and characterizing novel optical, electro-optical and electronic materials.
"I am honored to be selected. It is a testament to my fantastic collaborators, postdocs, and students." Caldwell said about the award.
The new fellows will be honored at Optica conferences and events throughout 2024.
Posted on Thursday, November 2, 2023 in fellows, Joshua Caldwell, Optica fellow, optics, photonics,Home Features, Mechanical Engineering, News, News Sidebar