Vanderbilt engineering's Koutsoukos and Oskay honored with endowed chairs
Xenofon Koutsoukos, chair of the Department of Computer Science, and Çağlar Oskay, chair of the Department of Civil and Environmental Engineering, have been honored by Vanderbilt University with endowed chairs.
Koutsoukos has received the inaugural Thomas R. Walters Chair. This chair will be celebrated at the Investiture event in Spring 2024. Oskay has received the honor of a Cornelius Vanderbilt Chair in Engineering.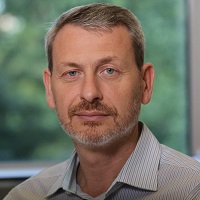 Koutsoukos was appointed chair of the Department of Computer Science in 2021. He is a professor of computer science, computer engineering and electrical engineering, and a senior research scientist with the Institute for Software Integrated Systems at Vanderbilt.
The focus of Koutsoukos' research is in cyber-physical systems with emphasis on learning-enabled systems, security and resilience, control and decision-making, diagnosis and fault tolerance, formal methods, and adaptive resource management. He joined the Vanderbilt engineering faculty in 2002.
Co-inventor of four U.S. patents, Koutsoukos also has published more than 350 refereed journal and conference papers. He received an NSF Career Award in 2004, the Vanderbilt University School of Engineering Excellence in Teaching Award in 2009, and the 2011 Aeronautics Research Mission Directorate Associate Administrator Award in Technology and Innovation from NASA. He is a Fellow of the IEEE.
Thomas R. Walters, BE'76, has served the engineering school as chairman of its Committee of Visitors, and he was inducted into the school's Academy of Distinguished Alumni in 2011. He has established the Walters Family Scholarship in Engineering, the Walters Family Chair, and the Thomas R. Walters Chair.
Cornelius Vanderbilt Chairs are established by the university at all Vanderbilt schools to recognize faculty who are engaged in groundbreaking research. The chairs were established in 2002 to recognize outstanding full professors already at Vanderbilt and it is named for the university's founder.
Oskay was appointed chair of the Department of Civil and Environmental Engineering in 2022. He is a professor of civil and environmental engineering and holds a secondary appointment as professor of mechanical engineering. Oskay directs the Multiscale Computational Mechanics Laboratory. Between 2019 and 2021, Oskay served as director of the Engineering for Civil Infrastructure Program at the National Science Foundation.
His primary research focus is on multiscale computational modeling and simulation of material and structure systems subjected to extreme environments and loading conditions.
A faculty member at the Vanderbilt School of Engineering since 2006, Oskay was named Chancellor Faculty Fellow in 2016 and a Fellow of the American Society of Mechanical Engineers in 2017, and a Fellow of the Engineering Mechanics Institute in 2019.
Contact: Brenda Ellis
brenda.ellis@vanderbilt.edu
Posted on Wednesday, April 19, 2023 in Caglar Oskay, civil engineering, computer science, Cornelius Vanderbilt Chair, endowed chair, environmental engineering, Thomas R. Walters Chair, Xenofon Koutsoukos,Civil and Environmental Engineering, Computer Science, Home Features, News, News Sidebar