Vanderbilt's Abhishek Dubey leads symposium on sustainable cities research
Abhishek Dubey, associate professor of computer science and electrical and computer engineering, is leading a one-day symposium on Nov. 13 at Cornell Tech highlighting innovative research for sustainable cities.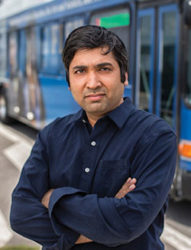 Called Urban Tech Academy day, the event sponsored by the National Science Foundation and Cornell Tech will focus on "clean electrified multimodal transportation systems."
Over two sessions, experts will provide ideas and point to technical gaps that need to be filled to ensure efficient and reliable solutions that best serve commuters as well as provide clean and accessible charging opportunities for the heterogeneous vehicles of a multimodal urban transportation system. Along with reducing costs and emissions, fairness, security, and privacy are aspects that will also be discussed.
Earlier this year, Dubey, who directs the SCOPE lab (Smart and resilient Computing for Physical Environment) at the Institute for Software Integrated Systems at Vanderbilt, received a NSF CAREER Award to design online decision procedures for societal-scale cyber-physical systems such as traffic networks, emergency response systems and power grids that are the critical infrastructure of  communities.
Posted on Monday, November 13, 2023 in Abhishek Dubey, computer science, electrical and computer engineering, smart cities,Computer Science, Electrical and Computer Engineering, Home Features, News, News Sidebar, Research