Vanderbilt's Shihong Lin wins Walter L. Huber Civil Engineering Research Prize
Shihong Lin, associate professor of civil and environmental engineering, has been awarded a Walter L. Huber Civil Engineering Research Prize by the American Society of Civil Engineers. Lin was honored alongside three other researchers.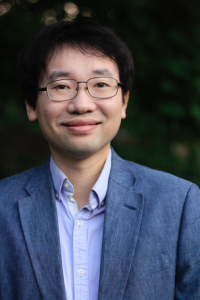 The Huber Prize, named after former ASCE president Walter L. Huber, is given to researchers based on the impact of their research on their chosen subdisciplines and on the broader field of civil engineering. The award committee focuses on impact as measured by total number of citations, h-index, total research funding received and letters of recommendation.
Lin was recognized for his contributions in advancing fundamental understanding of and developing innovative technologies for water separation processes to address critical challenges in water and resource sustainability.
Separation processes have played an indispensable role in modernizing water treatment and will become increasingly important as water treatment evolves to adapt to climate change. In addition to enhancing water security, advanced water separation processes are also critical for tapping into unconventional sources for a sustainable supply of nutrients and critical minerals.
"I am humbled and honored to join a cohort of exceptional colleagues from all areas of civil engineering in being recognized with the Huber Prize," Lin said. "While officially the award is a recognition of my research contributions to the field, we all know that these contributions would not have been possible without the hard work and creativity of the very high-quality graduate students at Vanderbilt.
"Winning the Huber Prize is a significant milestone in my career, and it motivates me to continue to be bold and innovative and to perform impactful research to advance the fundamental science in water separation processes and develop technology that can benefit society toward greater sustainability."
Lin, who joined Vanderbilt in 2015, grew up in China and received his bachelor's degree from Harbin Institute of Technology in 2006. He earned his master's degree and Ph.D. from Duke University in 2011 and 2012.
About the American Society of Civil Engineers
The American Society of Civil Engineers represents more than 150,000 members of the civil engineering profession in 177 countries. Founded in 1852, ASCE is the nation's oldest engineering society. It stands at the forefront of a profession that plans, designs, constructs and operates society's economic and social engine—the built environment—while protecting and restoring the natural environment. ASCE is a leading provider of technical and professional conferences and continuing education; is the world's largest publisher of civil engineering content; and serves as an authoritative source for codes and standards that protect the public.
Posted on Friday, April 7, 2023 in ASCE, Huber Prize, Shihong Lin, Walter L. Huber Civil Engineering Research Prize,Civil and Environmental Engineering, Home Features, News, News Sidebar, Research