'Bennett A. Landman'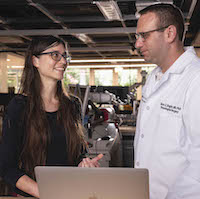 Aug. 29, 2019—A team led by an engineering professor who specializes in techniques to analyze functional neuroimaging data and a neurosurgeon-scientist has received a $3 million NIH grant for epilepsy research. This is the third major NIH R01 basic research grant Vanderbilt School of Engineering and Vanderbilt University Medical Center teams have received in less than a...
---
Sep. 1, 2009—The Vanderbilt University School of Engineering announces the appointment of seven new faculty members to its full-time teaching staff. They are Jon F. Edd, W. David Merryman, Hak-Joon Sung, Craig L. Duvall, Bennett A. Landman, Yaqiong Xu and Akos Ledeczi. Assistant professor of mechanical engineering Jon Edd focuses his research on inertial and drop-based microfluidics...
---