'Engineering Career Day'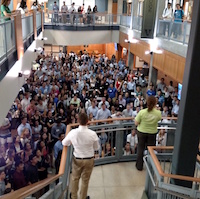 Sep. 21, 2017—The ubiquitous "elevator pitch" is a standard rite of career advancement. Whether or not it takes place in an elevator, job candidates are told they must be able to describe their awesomeness in two minutes or less. The Vanderbilt Career Center this year turned the tables on the recruiters. The night before the official Career...
---
Feb. 10, 2011—The Vanderbilt Career Center (VCC) hosted an inaugural spring Engineering Industry Career Day with 36 companies in attendance on February 3 from 10am-2pm. Industry Career Days serve as one of many ways to interact with potential employers. Nearly 90% of those in attendance were undergraduate and graduate School of Engineering students seeking internship opportunities and...
---