ChBE research assistant has 'a good run,' wins 4 Jeopardy! shows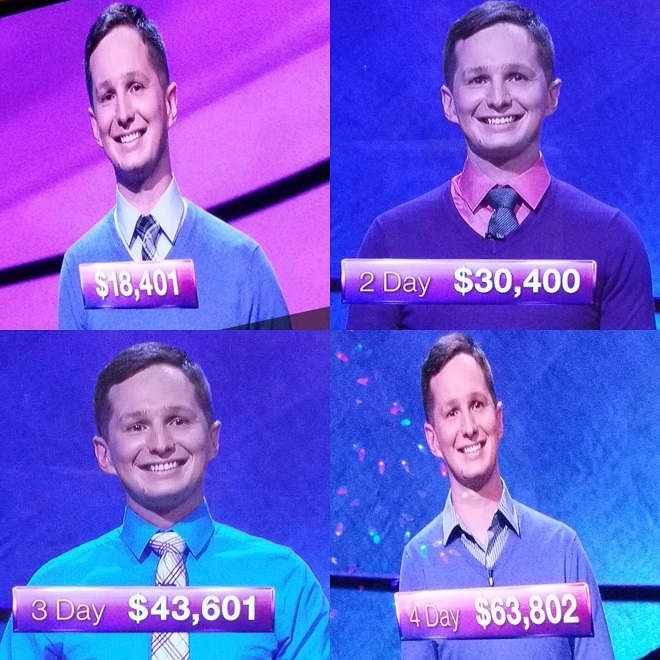 What was a week's worth of Jeopardy! episodes for the viewing public in fact took place over one, long, grueling day.
Kyle Becker, a School of Engineering research assistant, won his first match, then the second, then the third – all before lunch. A 20-minute break between tapings allowed for changing clothes and fixing makeup. Becker didn't expect to keep winning; he had brought four dress shirts, five or six ties, and two sweaters to greater Los Angeles for the show. He scrapped plans to wear a bowtie for his Jeopardy! debut because his hands were too shaky.
Still, he whipped through categories such as geography and chemical elements with what looked like ease. During commercial breaks he'd stretch and take deep breaths. He appeared calm and professional.
He lost his fifth game. It was a late August taping; in real life it aired Friday, Dec. 8. In the land of Jeopardy! Becker won $63,802. In real life it will be far less – game show winnings are taxed at a higher rate than regular income and treated like a bonus or lottery jackpot.
Most likely he'll use a good chunk of it to pay down student loans. Travel is on the horizon as well – perhaps New Zealand or Southeast Asia or Beijing or Buenos Aires. Manhattan is a given.
Becker has been catching up on rest and life – he hosted five consecutive viewing parties at Nashville hotspots for friends and fans. He's also pondering what should lead bucket his bucket list now. Appearing on Jeopardy! topped it for years; his classmates at Bismarck High School (North Dakota) voted him "most likely to appear on Jeopardy!"
But it was in college when the call of the buzzer grew louder. Becker started taking the online qualifying tests. This year he advanced to an in-person test and a mock round, held in downtown Nashville, to gauge whether potential contestants can keep the game going and interact comfortably with host Alex Trebek.
Knowledge of science certainly helped. Becker, who earned his master's in microbiology and immunology from Vanderbilt in 2014, works in the lab of John Wilson, assistant professor of chemical and biomolecular engineering. The team's research area is programming nanoparticles to make the immune system attack cancers.
He prepped as much is possible. "Some categories just come up more often than others," Becker said, citing geography, Shakespeare, English monarchs, and opera.
On the fifth night, Becker was not in the lead when Trebeck read the category for Final Jeopardy! It was a pop culture nugget, specifically prime time television actresses. Becker knew he was in trouble.
The clue: "On the beat since 1999 she plays the longest-running female character currently on TV in a prime time, non-animated series."
He knew it was "Law & Order SVU." He knew it was Detective Olivia. He could not fetch Mariska Hartigay's name from anywhere.
"Nope," he remembers thinking. "It's been a good run."