Engineering researchers represent Vanderbilt at D.C. expo of NSF-funded projects
Two School of Engineering researchers represented Vanderbilt in Washington D.C. this week at a showcase on Capitol Hill exhibiting projects that were funded by the National Science Foundation.
Cary Pint, assistant professor of mechanical engineering, and Anna Douglas, an interdisciplinary materials science Ph.D. student, also met with staff from six Tennessee Congressional offices, including the Office of Sen. Lamar Alexander.
Pint and Douglas were accompanied by Christina West, Vanderbilt's assistant vice chancellor for federal relations, and Assistant Director of Federal Relations Gabriella Ra'anan.
"Cary and Anna were fantastic representatives for both Vanderbilt and NSF," West said. "They were able to talk not only about their research, but the important role NSF plays in education and outreach."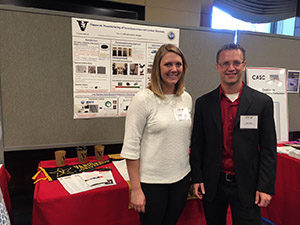 The Vanderbilt team also met with the staff from the offices of Reps. Marsha Blackburn, Steve Cohen, Jim Cooper, Chuck Fleischmann and David Kustoff.
Vanderbilt was among three dozen organizations presenting NSF-funded research projects at the event.
The timing was providential. On Thursday, it was announced that Douglas was among five entrepreneurs selected for the inaugural cohort of the Department of Energy Innovation Crossroads program at Oak Ridge National Laboratory. The prestigious accelerator program for early-stage tech companies includes $350,000 in seed funding, two years of salary, unlimited access to ORNL resources and access to experts.
The showcase, "Investments in Scientific and Educational Research: Fueling American Innovation," was sponsored by the Coalition for National Science Funding (CNSF). The coalition includes more than 130 professional organizations, scientific societies, national associations, and universities that support the goal of increasing the national investment in the National Science Foundation's research and education programs. Vanderbilt is a member of CNSF.
This was the 23rd annual CNSF Capitol Hill Exhibition.
RELATED STORY:
Novel nanotube approach earns grad student coveted spot in ORNL innovation program