Novel nanotube approach earns grad student coveted spot in ORNL innovation program
An interdisciplinary materials science graduate student has been selected for a prestigious entrepreneurship program to scale and commercialize a revolutionary method of carbon nanotube production.
Anna Douglas is one of five entrepreneurs selected for the inaugural cohort of the Department of Energy Innovation Crossroads program at Oak Ridge National Laboratory (ORNL).
The accelerator program includes $350,000 in seed funding, two years of salary, unlimited access to ORNL resources and access to experts in her field.
"This is an once-in-a-lifetime opportunity," Douglas said. "The facilities and expertise are unmatched and the proximity to Vanderbilt can't be beat.  Having the opportunity to spend two years at a national lab during the course of my Ph.D. studies is phenomenal—but getting to do so while working on a start-up company is a truly unique experience."
Douglas is CEO of SkyNano, LLC, a company she founded with Cary Pint, assistant professor of mechanical engineering and CTO of SkyNano, LLC, whose research aims to produce and use such nanostructures in energy-related applications.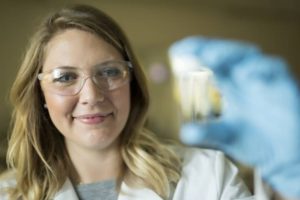 SkyNano wants to greatly reduce the cost of manufacturing single-walled carbon nanotubes – widely viewed as one of the most promising materials for applications ranging from next generation electronic devices to lighter composite materials with better durability.
"This could transform the production of single walled carbon nanotubes," Pint said.
Catalyst at heart of the technology advance
Carbon nanotubes exhibit remarkable properties. This includes mechanical strength over 100 times the strength of steel at 1/6 the weight. They also boast thermal conductivity of diamond and very high electrical current capability. They can be assembled into films that are flexible, semi-transparent, and certain ways of making carbon nanotubes can yield semiconductor behavior.
The carbon nanotubes with the greatest potential are a class of single-walled carbon nanotubes, or nanotubes with 0.7 – 3 nanometer diameter and only a single rolled-up sheet of carbon atoms.  Not surprisingly, they also are the most difficult to synthesize compared to larger diameter carbon nanotubes with more carbon "walls."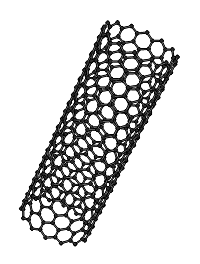 The materials are highly valuable and can cost upward of $900 a gram in some cases, a price point that severely limits the ability of researchers and manufacturers to take advantage of their transformative properties.  Scaled up, SkyNano's approach could produce this material at costs well below $1 a gram, according to Douglas and Pint.
They use a process that simultaneously removes carbon that exists in the atmosphere, in the form of carbon dioxide, and repurposes it into a stable carbon nanotube.  SkyNano's breakthrough, however, is in its catalyst materials, which can tune the carbon nanotubes to very small diameters.
These significant advances have led Vanderbilt to file two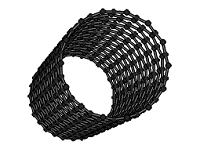 provisional patent applications on them.
Carbon nanotubes' great potential has kept the material at the forefront of research efforts for more than two decades.
"As many years of synthesis science have realized, the challenge to achieve high quality materials is control of the catalyst materials, and that's what our innovation is centered around," Pint said.
Open-air process reuses ambient carbon dioxide
Innovation Crossroads supports entrepreneurs in transforming their early-stage, potential game-changing ideas into clean energy companies. To qualify, the underlying technology must be reliable, affordable and carbon-neutral. SkyNano goes the additional step by removing carbon dioxide from the atmosphere and reusing it.
"We suck carbon dioxide out of the air and rather than store it as a gas or convert it to low-value fuels, we target production of a high-value product which, produced through this low-cost method, can promote significant technological progress across many fields," Douglas said.
Unlike other techniques to grow single-walled carbon nanotubes, their process is completely open to air so the system can have a continuous flow of carbon dioxide feedstock to the catalyst.  Other approaches use expensive vacuum and/or high pressure equipment and make scaling up to production levels a challenge.
In preparation, Douglas took advantage of enhanced opportunities at Vanderbilt that support innovation and entrepreneurship, including the Innovation Realization class at The Wond'ry. She will defer her National Science Foundation fellowship to focus on SkyNano for two years and then return to Vanderbilt to complete her Ph.D.
"Anna is carrying out this program in the middle of her graduate study, reflecting an innovation culture at Vanderbilt that has accelerated her trajectory toward entrepreneurship and enabled this to be a graduate-level immersion experience," Pint said
This is the first year ORNL and Argonne National Laboratory have accepted an Innovation Crossroads cohort. The program is in its third year at Lawrence Berkeley National Lab.
Selection involved multiple rounds of pitches and questions from scientists and industry experts. ORNL received 50 applications, from which 15 were chosen for final interviews. Fellowship recipients also will receive business support, from developing strategies to conducting market research and help seeking investment and commercial partners.
"By the end of the two-year program, my goal is to have made strong technical progress leading to product development, and to forge connections with customers in initial target markets," Douglas said.
Media Inquiries:
Pamela Coyle, (615) 343-5495
Pam.Coyle@Vanderbilt.edu
Twitter @VUEngineering
Posted on Thursday, May 18, 2017 in Anna Douglas, Cary Pint, interdisciplinary materials science, Nanomaterials, ORNL, Wond'ry,Home Features, Mechanical Engineering, News, Research