Grand Stair dedicated in honor of alumni Ed and Sue Clark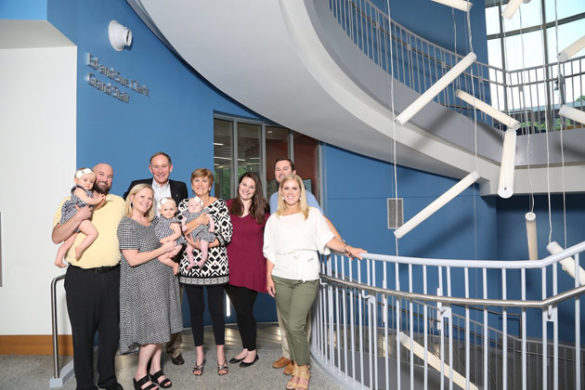 The striking spiral staircase inside Vanderbilt University's Engineering and Science Building was dedicated April 28 in honor of alumni and longtime university supporters Sue, BA'77, and G. Edmond "Ed" Clark, BE'76.
The dedication ceremony recognized the Clarks' contribution to the building's architectural focal point. The Ed and Sue Clark Grand Stair circles through four levels of a building designed for interdisciplinary collaboration and innovation.
"The Engineering and Science Building and Innovation Pavilion are unlike any other on this campus, bringing together faculty and students from all over Vanderbilt. This spiral staircase perfectly symbolizes the connectivity that is at the heart of this trans-institutional facility. We deeply appreciate the Clarks' support for and engagement in this vision," Provost and Vice Chancellor for Academic Affairs Susan R. Wente said.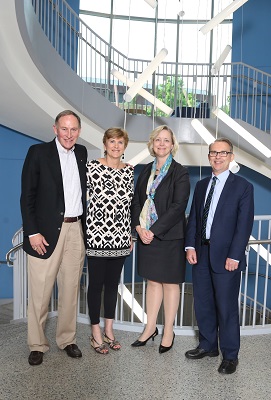 "The Clarks have been dedicated friends and supporters of Vanderbilt," School of Engineering Dean Philippe Fauchet said. "They have created a fine legacy at this university, and we are grateful for their support of this iconic structure."
For Sue and Ed Clark, the Engineering and Science Building and particularly the staircase gave the couple a way to honor both their history with the College of Arts and Science and the School of Engineering. At the dedication event, Ed Clark acknowledged the significance of the building for the future of Vanderbilt in further promoting trans-institutional discovery, scholarship and teaching.
"That's why this building, this staircase, was the perfect opportunity for us," he said.
The Clarks were joined at the dedication by their three children—Edmund, David and Anna—and their families, along with several cousins and friends.
The couple's philanthropy includes establishing the Ed and Sue Clark Scholarship in Engineering. Ed Clark served on the School of Engineering's Committee of  Visitors for eight years before joining the committee's successor, the Board of Visitors, where he continues as a member. He was named a distinguished alumnus of the School of Engineering in 2013.
A native of Shelbyville, Tennessee, Ed Clark graduated magna cum laude from Vanderbilt with a bachelor's degree in civil engineering in 1976. Sue Clark received her bachelor's degree in math in 1977.
Ed Clark began his career working for Exxon in Houston, Texas, and received an MBA in finance from the University of Houston in 1979. He moved to Memphis in 1983 to begin a 27-year career at Federal Express, where he served in a variety of roles, including senior leadership positions. In 2000, he formed the subsidiary FedEx Trade Networks, which became the largest customs broker in North America and an international freight forwarding and trade consulting firm. Clark retired in 2009 after serving as president and CEO.
Media Inquiries:
Heidi Hall, (615) 322-NEWS
heidi.hall@vanderbilt.edu