Lineup of 'maker' events connects needs with solutions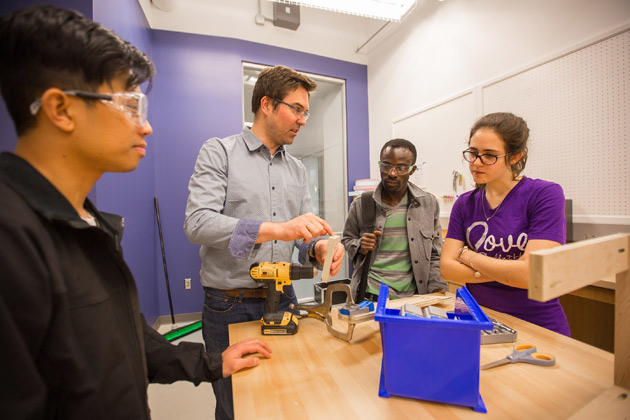 Vanderbilt University is embarking on a series of events demonstrating its commitment to connecting need knowers with solution makers.
Kevin Galloway, hired last year as the university's director of making, recently was appointed as the Design as an Immersive Vanderbilt Experience (DIVE) director and will play an integral role in upcoming hackathons, makeathons and design courses.
DIVE, which launched this semester, engages students in learning human-centered design skills in order to solve complex, real-world problems by working in multidisciplinary teams guided by faculty mentors. DIVE is one of the programs that will be overseen by the newly announced Office of Immersion Resources.
The upcoming events support DIVE by inviting teams of students to develop solutions to problems they're either presented or discover for themselves. The solutions can be in the form of software, apps or devices.
"With these maker events, the visitors and participants all get an immersive experience," said Galloway, who is also a research assistant professor of mechanical engineering. "To grow as a maker, it's important to step out your comfort zone, to study the approaches others pursue, and to work on a wide variety of challenges. This not only builds experience and confidence, but opens up new networks to make connections to do impactful work."
Galloway came to Vanderbilt from a position as part of the Advanced Technology Team at the Wyss Institute for Biologically Inspired Engineering at Harvard University. There, he worked closely with the Harvard Microrobotics Lab and the Harvard Biodesign Lab to build an internationally recognized soft robotics platform. His work has led to 12 patent filings on topics ranging from medical devices to new manufacturing techniques and designs for soft robotic systems.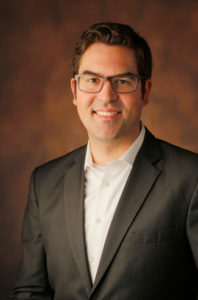 He's taking on the DIVE position from founding director Lori Troxel, associate professor of the practice of civil and environmental engineering, who oversaw the initiative's creation and implementation.
Cynthia J. Cyrus, vice provost for learning and residential affairs, said Troxel's input was vital throughout DIVE's initial planning stages and selection as Vanderbilt's Quality Enhancement Plan, a critical component of the university's accreditation by the Southern Association of Colleges and Schools Commission on Colleges.
"We are grateful for her service," said Cyrus. "We are equally delighted to now have Kevin at the helm, steering this important initiative. His specific expertise and broad range of relationships across campus and academic communities will help strengthen an already dynamic program."
As a major part of the DIVE initiative, Vanderbilt is teaming up with the Nashville Mini Maker Faire for the faire's fifth annual event – and the first both held across two days and located on Vanderbilt's campus. Matt Kenigson, president of non-profit Make Nashville, which organizes the event, said the longer period is attracting participants from farther away and with a wider array of making experiences.
The Wond'ry, Vanderbilt's center for entrepreneurship, innovation and making, will be the central location, with more than 100 maker booths, vendors and demonstrations in and around the building Sept. 30-Oct. 1.
Kenigson said the world of making is often invisible, with creative people designing solutions to life's challenges, big and small, in their kitchens, garages or makerspaces spread across the country. Maker faires bring their work to light.
"We are thrilled to bring the energy, creativity and wonder of the maker faire to the academic jewel of Nashville," he said. "Just as the Wond'ry has been tasked with bringing together makers, inventors, engineers, entrepreneurs, artists and creatives from all over Vanderbilt's campus and beyond, Make Nashville exists to support and connect all of these members of the maker movement throughout the Middle Tennessee region and beyond."
Other upcoming events connecting need knowers with solution makers at the Wond'ry include:
Distributed: Health Hackathon, Sept. 23-24. This 24-hour hackathon being held just prior to the second annual Distributed: Health conference invites participants to use blockchain technology to create apps to be used in healthcare, insurance, finance and identity protection.
Vandy Hacks IV, Oct. 20-22. This completely student-organized, 36-hour collegiate hackathon invites participants from universities across the nation to design apps and devices and then present them at a public exposition.
TOM Global Makeathon, Jan. 19-21. The event pairs specific need knowers – typically individuals living with disabilities, their caregivers or professionals in the field – with skilled makers who can address specific problems. The name is derived from Tikkun Olam, Hebrew for "repairing the world," and the makeathon spans 72 hours.
Galloway is also teaching a new DIVE course called How to Make (Almost) Anything, designed for all undergraduates, regardless of major or technical training. Students gain experience with both hand tools and digital fabrication so they can quickly test ideas, clearly communicate concepts and solve problems.
Two other DIVE courses being offered this semester are History of Fashion, taught by fashion design professor Alexandra Sargent-Capps, with a human-centered design component in the section on sustainable fashion; and Positive Psychology in Organizations, taught by Peabody Scholars Program Director Leslie Kirby in conjunction with a local business where students can practice human-centered design.
Another opportunity for immersive learning comes from the University Course titled Design Thinking, Design Doing, taught by Professor of the Practice of Management and Innovation David Owens and Department of Teaching and Learning Professor and Chair Rogers Hall. University Courses are designed to be trans-institutional and problem-solving by nature, and this one asks teams to develop solutions to challenges from the fields of education, business and health.
Media Inquiries:
Heidi Hall, (615) 322-NEWS
heidi.hall@vanderbilt.edu
Posted on Monday, September 18, 2017 in DIVE, Immersion Vanderbilt Initiative, Kevin Galloway, Maker Faire, the Wond'ry, VandyHacks,Home Features, News, News Sidebar