Chambers entrepreneurial speaker stresses customer and clinical validation
Ayanna Howard is an internationally known roboticist, holds an endowed chair at Georgia Institute of Technology, and spent 12 years as a senior researcher at NASA's Jet Propulsion Laboratory.
An innovator with a proven track record, Howard nonetheless knew she had much to learn in making the leap to entrepreneur. And she's still learning.
Howard, the Linda J. and Mark C. Smith Endowed Chair of the School of Electrical and Computer Engineering at Georgia Tech, shared part of her journey at the fall 2017 Chambers Family Entrepreneurial Lecture.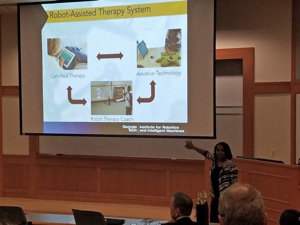 "Sometimes it is not about the idea," she said. "It is about the market."
Howard is CTO of Zyrobotics, an ed tech startup a spun out her research that provides mobile technologies to make learning accessible. Specifically, the innovation focus is to "develop robots and gamified technologies to support the special needs of children with disabilities."
Zyrobotics did not consider itself an educational technology company at the outset, landing there after a few pivots. Howard took advantage of I-Corps, or Innovation Corps, a National Science Foundation program that provides entrepreneurial training to engineers and scientists. The goal is accelerating benefits to society and the economy of NSF-funded research.
One early takeaway – hire an outside CEO.
"I was told many, many times by iCorps that the traits that make a good faculty member are not the same that make a good CEO," she said, adding, "I am too attached to the technology because I designed all the tech."
Zyrobotics already has several products on the market, TabAccess, a Bluetooth switch interface that allows makes anyone with motor limitations to use a tablet without touching the screen; and the Zumo Learning System, an accessible STEM-focused learning environment for children of all abilities; plus multiple educational apps. More than 200,000 children and therapists use the company's tablet-based games.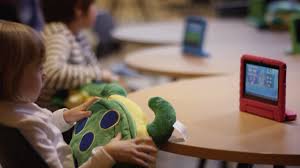 The big push now is an affordable, interactive, assistive robot to help children with cerebral palsy and autism-related movement disorders improve motion control when they are in their own homes.
Pediatric therapy settings are bright, playful and engaging, she said, and a child with an individualized robot that provides feedback and encouragement would want to continue the work at home.
"Ask any kid under the age of 12 if they'd want to take a robot home," Howard said. "No kid has ever said no."
This type of therapy involves constant repetition of identified movements – wrist flexion, shoulder rotation and forearm pronation are just a few – and making the exercises lively and fun is paramount, she said.
Zyrobotics' success depends on validation from multiple sources, including customers and clinicians. Howard worked directly with clinicians to establish baseline metrics for each distinct movement. And she programmed the robots with the ability to recognize basic emotions and to show emotions themselves.
A small pilot study showed children ages 9-11 with cerebral palsy listened better, pushed themselves harder, and maintained memory better working with a robot that showed empathy.
"It creates a bond and makes the engagement factor much longer," Howard said.
A larger study is the next step in clinical validation. As for customer validation, Howard said go straight to the source. 
"Talk to people. They will tell you what they need and want," she said. "But talk to 100. The first 10 will be your friends and family and just say, 'It's great!'"
Howard joined the faculty at Georgia Tech in 2006. A range of agencies including the NSF, NASA, Procter and Gamble, ExxonMobil and Intel has supported her research projects, which include SnoMote robots to study the impact of global warming on Antarctic ice shelves.
Her "humanized" robotics and assistive technology research has resulted in more than 200 publications and numerous patents, and Business Insider named her one of the 23 most powerful women engineers in the world.
The School of Engineering's Chambers Family Entrepreneurial Lectureship was endowed in 2014 by the Chambers Medical Foundation. The lectureship encourages and invigorates entrepreneurial activity among engineering students and throughout the Vanderbilt community by bringing successful business leaders to share their experiences.
Media Inquiries:
Pamela Coyle, (615) 343-5495
Pam.Coyle@Vanderbilt.edu
Twitter @VUEngineering
Posted on Saturday, September 30, 2017 in autism, cerebral palsy, Chambers Family Entrepreneurship Lecture, Chambers Lecture, I-Corps, robotics,Electrical Engineering and Computer Science, Mechanical Engineering, News, News Sidebar