The Wond'ry with VISE lands $500K I-Corps site grant to boost startups
In collaboration with the Vanderbilt Institute for Surgery and Engineering, The Wond'ry recently won a five-year, $500,000 National Science Foundation grant to become an Innovation Corps site.
The designation marks Vanderbilt as one of the premier academic institutions nationwide that nurture entrepreneurship. The I-Corps site grant will support programs to match students and faculty with teams of experienced professionals who can teach, guide and mentor them as they pursue startup endeavors.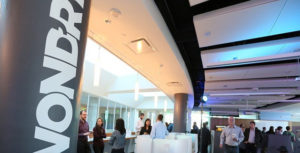 Participating teams receive grants to help them interact with potential customers and explore the commercial potential of devices they've designed. Through the program, participants determine if their invention is truly different from existing technology, and, once validated, develop a go-to-market commercialization strategy to maximize potential success.
Robert Grajewski, Evans Family Executive Director of the Wond'ry, Vanderbilt's makerspace and epicenter for innovation and collaboration, said the I-Corps grant will allow for trans-institutional partnerships that include faculty, students and staff.
"The grant aligns with so much of what we're already doing to promote entrepreneurship," he said. "The Vanderbilt University community is bursting with entrepreneurial and innovation-related energy, and this I-Corps program will provide even further financial and mentoring support for these endeavors for years to come."
Those entrepreneurial efforts include the Wond'ry's Pre-Flight and Post-Flight programs — offered in cooperation with Vanderbilt's Center for Commercialization and Technology Transfer — where potential entrepreneurs receive education and guidance about all phases of launching a company. VISE's IMPACT course and the Owen Graduate School of Management's Launching the Venture course offer similar guidance, as does Innovation Realization, a course that teams business, law and engineering students to develop products with commercial potential.
Grajewski teamed up with Robert Webster, associate professor of mechanical engineering and a VISE steering committee member, to apply for the NSF I-Corps grant. They had the help of Byron Smith, a Vanderbilt alumnus, VISE staff member and former I-Corps participant. Webster, who launched Virtuoso Surgical to commercialize the devices he's developed, participated in the I-Corps program last year.
There are about 70 I-Corps sites at universities across the nation. Participation also opens the doors to additional funding through the federal Small Business Innovation Research and Small Business Technology Transfer programs, which support research, development and commercialization of cutting-edge technological advances by giving applicants access to a total of $2.5 billion annually.
Partnerships will extend off campus as I-Corps participants team with mentors, including those through Launch Tennessee, a public-private partnership that fosters entrepreneurship statewide.
"We are excited by the program's potential to help refine start-ups coming out of Vanderbilt by providing the training and mentorship needed to build viable business models and by helping develop teams that are capable of executing," said Launch Tennessee CEO Charlie Brock. "We believe that mentorship plays a pivotal role in determining the success of new ventures, and we are thrilled to see Vanderbilt's new I-Corps site tap into the industry-specific mentors and resources found throughout our statewide accelerator network."
The Vanderbilt I-Corps site is open to the entire Vanderbilt University community for the first year. Participants will be selected through one of the preparatory courses already being offered through Vanderbilt and should apply through PreFlight or PostFlight programs or through the Innovation Realization, IMPACT or Launching the Venture academic courses.
Successful candidates ultimately will travel to one of eight regional I-Corps nodes for even more intensive preparation to launch their companies.
Media Inquiries:
Heidi Hall, (615) 322-NEWS
heidi.hall@vanderbilt.edu
Posted on Tuesday, September 5, 2017 in entrepreneurship, innovation, NSF, Robert Grajewski, Robert Webster, Wond'ry,Engineering & Science Building, Home Features, News