Top STEM scientists, educators, alums share struggles, wisdom
Kimberly Bryant, a national leader in technology education, had no female professors in her four years as an undergraduate at Vanderbilt School of Engineering.
Bryant earn her bachelor's degree in electrical engineering in 1989 and then worked at international tech and pharmaceutical companies before founding Black Girls Code. She's been recognized by Business Insider, The Root 100 list, the Ebony Power 100 list, and the White House.
And she came close to leaving Vanderbilt. As a young woman in a male-dominated field, it was hard. As a woman of color, it was harder. A chance hallway meeting with another female student, an undergraduate who was a few years older, made the difference. Bryant suddenly had a mentor and a friend, someone with whom she's stayed close.
"It was a rough environment," she said. "If it were not for meeting her, I would have left."
Candor took center stage at "Challenges and Opportunities for Women in STEM," which included a presentation by author Rachel Swaby; a panel discussion with high-ranking Vanderbilt women; and recognition of Bryant's addition to the School of Engineering's Academy of Distinguished Alumni.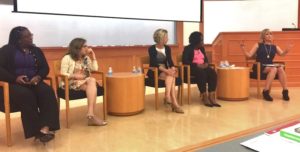 Panelists also shared what helped them succeed and continues to make a difference in their professional and personal lives. The importance of finding a mentor (or more than one); building a strong network of female peers; learning when to say "no;" networking even if is uncomfortable; and developing negotiation skills were common themes.
Take Alyssa Hasty, professor of molecular physiology and biophysics, and associate dean for Faculty Development for Basic Sciences at the School of Medicine. Early on, a mentor advised her not to think of work-life "balance" but rather think of parts of her life as circles. Find ways they can intersect.
So Hasty, an avid runner, hits the pavement with family members as a way to spend time with them. At professional conferences, she skips the cocktail scene. "I found other scientists who liked to run," she said.
In addition to Bryant and Hasty, the panel featured Bonnie Miller, a physician and senior associate dean for Health Sciences Education and the executive vice president of Educational Affairs for Vanderbilt University Medical Center; and Nicole Joseph, assistant professor of mathematics education, Peabody College of Education and Human Development.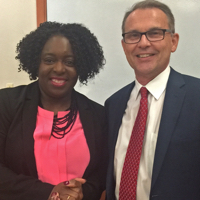 Helping organize conferences gets notice, as does trading speaking invitations with peers at other universities to help build a solid professional reputation, according to Joseph and Hasty.
Miller, who got pigeonholed as a breast surgeon early in her career though it was not her preference, said women who are passionate about what they do will face countless small decisions during their careers.
"Do I see a patient in the OR because a colleague asked me when I promised my daughter I'd be at her soccer game," she said, recounting one such evaluation.
Asking, "Who is going to be the most disappointed," can guide the answer. So may, "Is this my only chance to do this," added Tracy Kornet, WSMV news anchor and reporter, who moderated the panel.
"You can have it all – just not at the same time," Hasty said. "And being okay with that."
Author Swaby opened the event with a quick look at a few women highlighted in her 2015 debut book, Headstrong: 52 Women Who Changed Science—And the World. A writer and producer based in New York City, Swaby – the youngest person on the stage – said had she known about so many women who advanced science, math, and engineering as a youngster her own trajectory might have changed.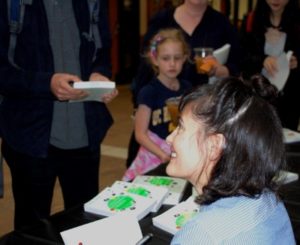 Elementary school students, for example, learn about the earth's inner core and draw it.
"How wonderful would it have been to learn it was discovered by a woman," Swaby said, sharing the story of Inge Lehmann, a Danish seismologist who identified the inner core in 1936. It took years for Lehmann's work to be recognized.
"Stories of these extraordinary women who made a difference not only in how we see the world but how we experience it" should be standard textbook fare and not relegated to boxed highlights, Swaby said.
The need for role models and mentors is even more acute for girls of color, panelists said. Joseph said she often has been the only woman of color at academic events for math and the natural sciences.
"Very often people of color don't have these opportunities," she said.
That gap led Bryant, who focused her studies at Vanderbilt on high-voltage electronics, to form Black Girls Code in 2011. A Memphis native, she worked at Westinghouse Electric and DuPont after graduation, later moving to biotechnology firms and Fortune 100 pharmaceutical companies.
As a manager, she's seen too many women simply accept an offer without countering. "You have to negotiate," said Bryant, offering succinct advice. "Negotiate high.
"Do it," she said.
Posted on Friday, March 24, 2017 in Black Girls CODE, Kimberly Bryant, math, STEM, technology and learning, Women in STEM,Alumni, Home Features, News