Wiernicki recognized by Massachusetts academy for maritime industry service
Christopher J. Wiernicki, one of the newest members of the School of Engineering Academy of Distinguished Alumni and chairman, president and CEO of ABS, has added another honor to a long list of achievements.
He received the Maritime Person of the Year Award from the Massachusetts Maritime Academy on September 21.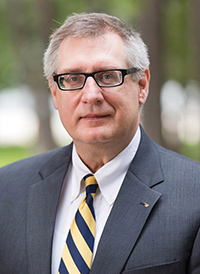 Wiernicki (BE '80) was presented with the Captain Emery Rice Medal, awarded annually to a civilian or military leader for distinguished service to the maritime industry. The award is named for an 1895 MMA graduate and World War I hero twice recognized by Theodore Roosevelt for maritime skill and bravery.
As reported in Maritime Executive, Wiernicki said he was honored to accept the award on behalf of more than 5,000 ABS employees worldwide "who dedicate their lives to promoting safety every day and have taught me the true lessons of service and humble leadership."
In his remarks, according to the story, Wiernicki also credited government and industry officials for the leadership shown as hurricanes and tropical storms ravaged Florida and the Texas Gulf Coast in recent weeks.
A recognized leader in naval architecture, marine engineering and risk management, Wiernicki was inducted into the School of Engineering Academy of Distinguished Alumni at a dinner in his honor, held last March in Houston.
He also is a member of the school's Board of Visitors. He received his Vanderbilt degree in civil engineering; holds a M.S. in Structural Engineering from George Washington University, where he was later elected to the George Washington University Engineering Hall of Fame; a M.S. in Ocean Engineering from Massachusetts Institute of Technology; and has completed Harvard University's Advanced Management Program.
The Massachusetts Maritime Academy ceremony was held in New York City. MMA, founded in 1891, is a four-year state university.