Reinhart-King receives the inaugural BMES Mid-Career Award
Cynthia A. Reinhart-King, a nationally recognized cellular bioengineer, is the inaugural recipient of the Biomedical Engineering Society's Mid-Career Award. Reinhart-King delivered the award lecture Saturday, Oct. 20, at the BMES 2018 Annual Meeting in Atlanta.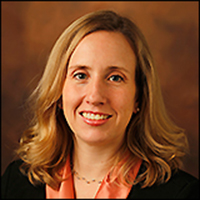 Reinhart-King received the 2010 Rita Schaffer Young Investigator Award and she is the only person to have received two of three major awards from the BMES.
The mid-career award, established earlier this year, will be given annually to a BMES member to recognize meritorious achievements and leadership in biomedical engineering and significant involvement and sustained contributions to the BMES. A recipient also must have earned a doctorate no more than 20 years and no less than 10 years prior to award year. The award comes with an honorarium and travel funds.
Reinhart-King, Cornelius Vanderbilt Professor of Engineering, was named a Fellow of the Biomedical Engineering Society in 2017. Her recent service to the BMES includes program chair of the 2016 Annual BMES Meeting, former co-chair of the National Meetings Committee, Secretary for the Society, and member of the Board of Directors, 2014-2017.
Other contributions to the BMES include developing several meeting sessions focused on new funding mechanisms, interfacing with industry, collaborations with government resources and meeting journal editors. She co-created the Young Innovators Award of the Cellular and Molecular Bioengineering Journal, one of the official journals of the BMES.
She is a leading expert in the field of mechanobiology, investigating how mechanical forces can promote disease progression. Her research has led to key insights into how changes in the stiffness of tissues can contribute to both cancer and atherosclerosis progression.  Importantly, her work is helping to bridge the gap between engineering and medicine.
The citations of her cellular bioengineering research number is in the thousands. In addition to a number of awards and honors, she is the recipient of a NSF Faculty Early Career Award and she is a fellow of the American Institute for Medical and Biological Engineering.  She has also won numerous awards for teaching and mentoring.
Contact: Brenda Ellis, (615) 343-6314
brenda.ellis@vanderbilt.edu
Posted on Thursday, October 25, 2018 in biomedical engineering, Biomedical Engineering Society Mid-Career Award, BMES, cellular bioengineer, Cynthia Reinhart-King,Alumni, Biomedical Engineering, Home Features, Media, News, News Sidebar