2018 senior design project winners announced
READ MORE:  With innovation in abundance, Design Day dazzles  April 27, 2018
More than 60 capstone engineering projects were on display at the Student Life Center for the school's annual showcase – Design Day – on April 23. Judges selected the following winners: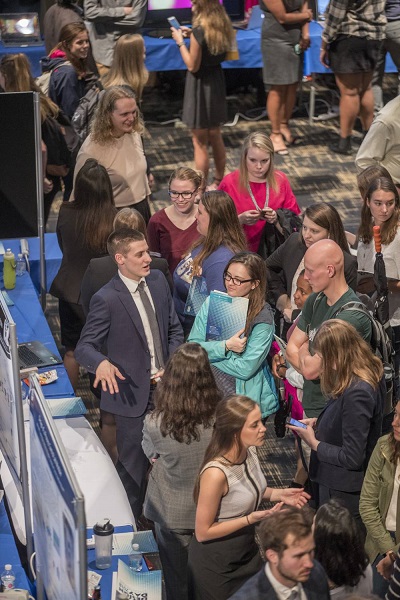 The Thomas G. Arnold Prizes for Biomedical Engineering Systems Design and Research is shared by Lauren Holtslander, Columbia, S.C. (research), and for design (LumaSil: Low Light Therapy Device for Diabetic Foot Wounds), Candace Grisham, Lakeland, Tennessee; Shashank Manjunath, Acton, Massachusetts; Benjamin Perlin, Nashville, Tennessee; Anthony Russo Jr., Park Ridge, Illinois; and Nicholas Wigginton, Troy, Illinois.
The Civil Engineering Design Award goes Weston Brzostovski , Roslyn, New York; Miguel Gomez, San Antonio, Texas; and Jerom Theunissen, Rye, New York; for their senior design project:  Vanderbilt Green Fund Bike Shelter.
The Mechanical Engineering Design Award is shared by two project teams. The winning projects are the Surgical Video System Design Project and the Nissan Robotic End-of-Arm Tooling Project. The video system team members are Alexander Roed (ME), West Bloomfield, Michigan; Christopher Savoca (EE), Ridgefield, Connecticutt; Douglas Manogue (ME), Sea Cliff, New York; Eric Noonan (ME), Wilton, Connecticutt; Kevin Barrow (ME), Carlisle, Massachusetts; and Lindsey Nestor (ME), Malvern, Pennsylvania. The Nissan team members are Andrew Jordan (ME), Oklahoma City, Oklahoma; Dannielle Hendon (BME), Monroe, Georgia; Iliya Mohamad Lokman (ME), Sungai Buloh, Malaysia; Joshua J. Fleck (ME), Bradenton, Florida; Kamal Hisyam Kamal Azmi (ME), Shah Alam, Malaysia; Matthew C. Johnson (ME), Pasadena, California; and Seonghoon Noh (ME/Math), Chattanooga, Tennessee.
The Walter C. Criley Prize in electrical engineering is awarded to the Sterling Ranch V Smart Light Pole senior design team: Ghassan Alduraibi (EE), Riyadh, Saudi Arabia; Emir Farid Mohd Rodzi (CmpE) Kuala Lumpur, Malaysia; Shamita Nagalla (CmpE), Alpharetta, Georgia; and Elizabeth Ann Weber (CmpE), Bay Village, Ohio.
The Kenneth A. Debelak Award for Excellence in Design in Chemical and Biomolecular Engineering winners are: First place, Production of Semiconductor Grade Silane for Polysilane Synthesis, Emily L. Daley, Ashburn, Virginia; Emily M. Cavalaris, Lake Forest, Illinois; and Savannah A. Thomas, Ridgeland, Mississippi. Second place, Designing a Multi-Product Brewery, Nicholas Crowther, Suwanee, Georgia; Brian Doney, Westerville, Ohio; Emily McRen, Hendersonville, Tennessee; Theresa Miller, Lake Zurich, Illinois. Third place (tie): Sulfuric Acid Plant with Waste Heat Recovery, Victoria Yao, College Station, Texas; Putri Desmawardi, Telok Panglima Garang, Maylasia; and Imran Anoar, Petaling Jaya, Malaysia; Third place: Grassroot Plant for Conversion of Natural Gas to Aromatics, Marie Armbruster, Lexington, Kentucky; Jessica Banasiak, Scotch Plains, New Jersey; Matthew Bedard, Frisco, Texas; and Nicole Jenkinson, Sheperdstown, West Virginia.
Posted on Thursday, May 10, 2018 in Civil Engineering Design Award, immersion, Kenneth A. Debelak Award for Excellence in Design, Mechanical Engineering Design Award, Thomas G. Arnold Prizes for Biomedical Engineering Systems Design and Research, Walter C. Criley Prize,Biomedical Engineering, Chemical and Biomolecular Engineering, Civil and Environmental Engineering, Electrical Engineering and Computer Science, Mechanical Engineering, News