Alumna steers Acumen to home solar investment in remote global locations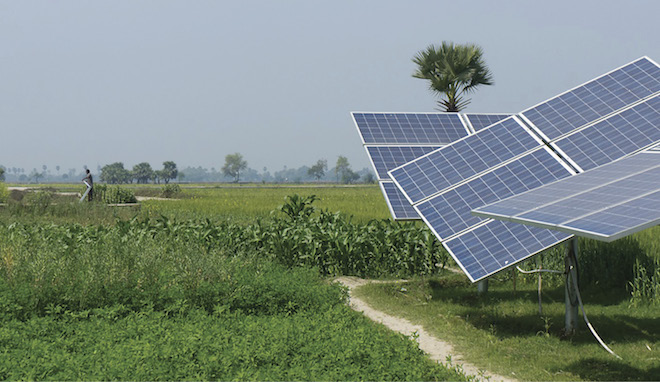 A Vanderbilt engineering graduate is leading Acumen's efforts to provide citizens of developing countries access to energy with low-cost home solar projects.
"Around the world, 1.1 billion people live without energy access. One in seven people don't have access to lights at night," said Leslie Labruto, BE'11, who is taking skills she honed at the Clinton Foundation and putting them to use as global energy lead at Acumen, an organization using market solutions for social change.
Under Labruto's leadership, the organization has strategically invested in companies installing home solar power systems in the remotest parts of Southeast Asia and sub-Saharan Africa. Each system can charge a battery with enough strength to power three lights and a cellphone charger, dramatically improving a family's quality of life.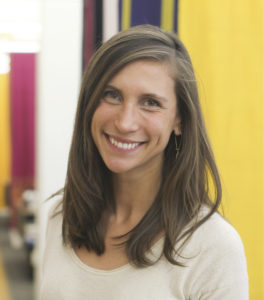 "It's low-cost, it's decentralized, and it gives economically disadvantaged people an opportunity to afford energy that isn't tied to fossil fuel consumption," she said.
Labruto seemed destined to study engineering, growing up in a "women-centric" New Jersey home with her mom, grandmother and sisters. "We all did everything," she said. "I was the one fixing the toilet and working on the sink." Attending Vanderbilt with a scholarship, she was as excited to do hands-on projects as she was to travel the world.
"Vanderbilt was incredibly instrumental in helping me in my desire to be a global citizen," she said.
Rather than a more traditional engineering project focused on city infrastructure, she conducted her senior project with an interdisciplinary team, helping design a solar- and bike-powered system to generate electricity for a school in Guatemala.
"It really opened my eyes to the fact that the world needs solutions and I can be a part of it," Labruto, who majored in civil engineering with minors in engineering management and energy & environmental systems.
After graduation Labruto served as a young alumni trustee on Vanderbilt's Board of Trust and earned a master's studying clean energy at Imperial College London. She then got a job at the Clinton Foundation working with small islands to transform their energy economies. She came to Acumen in February 2017, excited by its blend of social mission with venture capital.
"We're purpose-driven first, but we're also trying to make our money back to invest in more companies down the road," she said. That frees companies to have access to flexible money, compared to grants that can have onerous conditions, and allows them to leverage Acumen's seed investment to raise more money from investors and broaden their impact.
"Being an entrepreneur is tough," she said. "We see ourselves as a partner to stand by your side while you're trying to solve a business problem and do the right thing for the world."
The same supportive self-reliance extends to customers of the solar home systems, which cost about $200 but are offered on a payment plan of, say, 20 or 50 cents a day. That makes it affordable even to those making just a few dollars a day, offering them an asset and a point of pride in the bargain. After establishing their credit-worthiness, customers can then work toward buying a larger asset such as a refrigerator or television, or even a solar-powered irrigation pump or milling machine.
"They don't get a hand-out. They work toward something and can determine how to use it," Labruto said. "Things that really enhance quality of life but once seemed unobtainable are suddenly within reach."
The story is part of a larger article by Michael Blanding, is a Boston-based author and investigative journalist, that appeared in the June 2018 issue of Vanderbilt Magazine. His work has appeared in The New York Times, Wired, Slate, The Nation, The Boston Globe Magazine and Boston Magazine. His latest book, The Map Thief (2014, Gotham Books), was named a New York Times best-seller and an NPR Book of the Year.
Posted on Monday, July 16, 2018 in global service projects, Leslie Labruto, solar energy, solar power, Vanderbilt Board of Trust,Alumni, Civil and Environmental Engineering, Home Features, News, News Sidebar