New TIPs efforts in geospatial research and heritage preservation tap engineering faculty
Engineering faculty members will play key roles in two new university-wide interdisciplinary initiatives as well as help develop a Vanderbilt University institute of data science.
The efforts are among the newest round of grants made through the $50 million Trans-Institutional Programs initiative, now in its fourth year. In all, seven interdisciplinary projects involving more than 60 faculty members were awarded grants for 2018.
Vanderbilt Initiative for Interdisciplinary Geospatial Research will involve faculty from the College of Arts and Science, the Law School, the School of Medicine, and the School of Engineering.
Eugene Vorobeychik, assistant professor of computer science, computer engineering, and biomedical informatics, is in that working group. Because many big research questions across disciplines have significant spatial components, the group will look at current research efforts as well as technology, modeling and analysis and how best to organize geospatial tools and techniques to best serve investigators across Vanderbilt.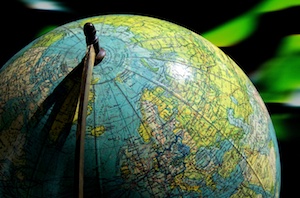 With an eye toward creating a geospatial center, the group will develop consultation resources and assess Vanderbilt's long-term research and teaching needs in this area.
Robert Bodenheimer, associate professor of computer science, electrical engineering, and computer engineering, as well as director of the scientific computing minor program, will be involved in a separate project. He is the School of Engineering's participant in the new Digital Cultural Heritage Research Cluster, with faculty from the College of Arts and Science, Blair School of Music, and Divinity School.
The goal is developing new digital methods to identify, study and preserve historic cultural expressions. Inspired by UNESCO's mission to protect cultural heritage in danger of destruction, the effort will connect humanities research with emerging technology to create 3D models, immersive digital environments and complex databases and data formats.
In addition, the Data Science Visions TIP will receive additional funding to support the development of a trans-institutional institute in data science, a recommendation outlined in the May 14 report by the Data Science Visions Working Group.
The group includes Vorobeychik and two other engineering faculty: Hiba Baroud, assistant professor of civil and environmental engineering; and Doug Schmidt, Cornelius Vanderbilt Professor, professor of computer science and professor of computer engineering.
Posted on Wednesday, May 30, 2018 in Doug Schmidt, Eugene Vorobeychik, Hiba Baroud, Robert Bodenheimer, TIPs,Biomedical Engineering, Chemical and Biomolecular Engineering, Civil and Environmental Engineering, Electrical Engineering and Computer Science, Mechanical Engineering, News, News Sidebar, Research