Nissan values fresh eyes on assembly plant design challenges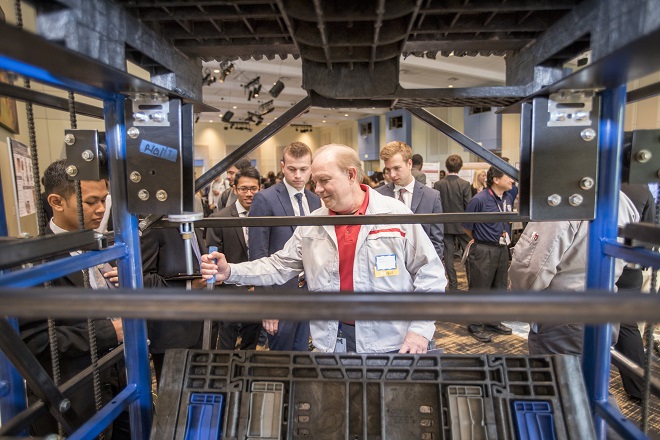 For more than five years, Nissan North America has sponsored engineering senior design projects share the goal of improving safety, workflow and efficiency its assembly plant in Smyrna, TN.
Mark Larson, the manager for Nissan's Integrated Factory Automation Engineering, welcomes fresh eyes on a problem each year.
"Having folks with no experience in an automotive manufacturing environment and no preconceived ideas on what 'is and is not possible' may give us an outside-the-box solution we have not identified," said Larson, who has advised the teams.
The match-up works well. In three of the last five years Nissan-sponsored teams won one of the handful of prizes awarded for senior design projects, including 2018.
"They do a very nice job of picking great projects that are important to them and their team, then supporting the projects as needed," said Thomas Withrow, who is assistant dean for design and associate professor of the practice of mechanical engineering.
"They do a great job supporting the students on the teams as well," he said.
One year a team created a small, automatic guided cart for areas in the plant where kits are assembled. Other carts on the market were too large for those spaces. The 2016–17 team designed an over-under parts handler that uses momentum and gravity—and needs no electricity. Nissan is considering using the concept in a long-term project under way, Larson said.
With the 2017-18 seniors, Nissan sponsored two projects. In one, seven students took on the arm extension for an industrial robot manufactured by Universal Robotics. They developed an underactuated, 10-degrees-of-freedom tool with a rotating, three-fingered design and force-controlled grasping.
Integrating multiple subsystems—linear control, computer vision, sensors, electrical, control force and the physical tool itself—was the most difficult aspect, said Iliya Lokman. He and five other students—Andrew Jordan, Josh Fleck, Kamal Azmi, Matt Johnson and Seonghoon Noh, all BE'18—majored in mechanical engineering. Interest in prosthetics and medical robotics led biomedical engineering major Dannielle Hendon, BE'18, to round out the team.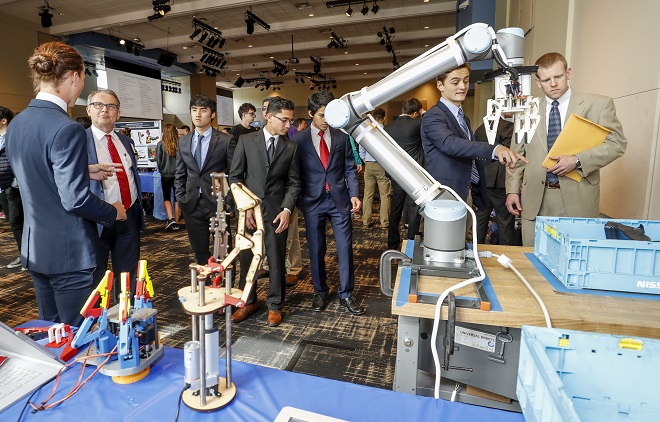 Their 3-D printed hand, which can grab parts weighing up to 15 pounds, is "super versatile" and can be scaled for other applications, Jordan said.
It also is significantly less costly and more adaptable than solutions on the market, students said. The project shared the Mechanical Engineering Design award with the Surgical Video System Design Project.
The second team set up a pneumatic conveyance system using a vacuum pump and PVC pipes to move shredded cardboard. Currently, cardboard is tossed into dumpsters at more than two dozen locations throughout the plant, then moved, then baled before it is sent to a large shredder for recycling. The plant collects about two rail cars filled with shredded cardboard each day.
"We have a tremendous amount of cardboard," Larson said, explaining that most of it is packaging for parts shipped from overseas.
Mechanical engineering majors Michael Brown, Suhardi Hablee, Hanis Hamidzul, Bethanie McCrary and Eiman Rozman, all BE'18, proposed a series of smaller cardboard shredders that feed into containers through piping; a cyclone ensures pieces settle in the container and do not clog the system.
Larson said the teams did well.
"They learned and were successful at overcoming obstacles and roadblocks not recognized at the beginning of the projects," he said. "Their ideas may also lead us in a direction we had not previously studied."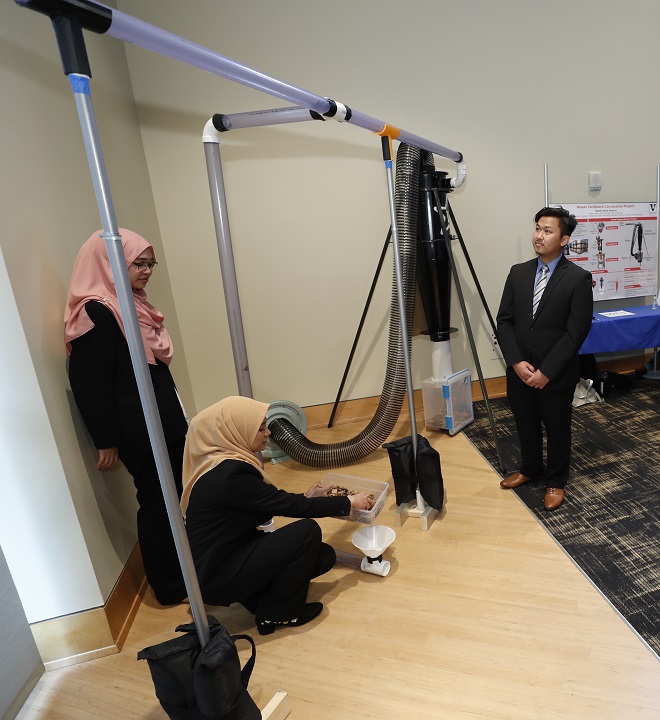 Posted on Tuesday, July 10, 2018 in Design Day, DIVE, immersion, Nissan, Thomas Withrow,Biomedical Engineering, Mechanical Engineering, News, News Sidebar