ORAU award supports Vanderbilt engineer's research on 2D nanomaterials
An engineering professor whose nanomaterials research, particularly materials that are one atom thick, has received a competitive research grant from Oak Ridge Associated Universities.
Piran Kidambi, assistant professor of chemical and biomolecular engineering, is one of 35 junior faculty nationwide to win a Ralph E. Powe Junior Faculty Enhancement Award, which provides funds to enrich the research and professional growth of young faculty at ORAU member institutions.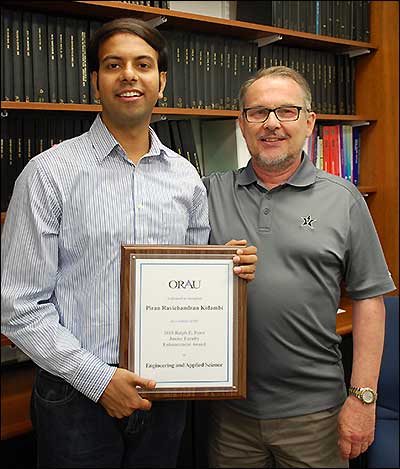 The recipients, each of whom is in the first two years of a tenure track position, will receive $5,000 in seed money for the 2018-2019 academic year to enhance their research during the early stages of their career. Each recipient's institution also matches the ORAU award with an additional $5,000.
"While 2-dimensional nanomaterials have generated significant research interest for electronic applications, we would like to use them to address challenges in separation applications by realizing a new kind of membranes that are only one atom thick," Kidambi said.
Such ultrathin membranes could offer transformative opportunities for applications such as dialysis, solvent extraction, bioprocessing, water purification, desalination and other novel separation processes.
At Oak Ridge National Laboratory, Kidambi is collaborating with a team of researchers in the Center for Nanophase Materials Sciences, including Juan Carlos Idrobo for imaging 2D materials at the atomic resolution using transmission electron microscopy, and An-Ping Li for atomic resolution imaging of 2D materials using scanning tunneling microscopy.
"To realize these membranes, we introduce sub-nanometer scale holes into these atom thick materials, such that molecules smaller than the holes will pass through while larger molecules will be retained. In effect, it is precision sculpting at the fundamental limits of the material length scale," Kidambi said.
"However, membrane applications require scalability that are orders of magnitude larger than electronics and will need novel processes that maintain precision and accuracy at the nanoscale while being scaled up," he said. "The Ralph E. Powe Award will allow us to pursue these applications and will enable us to build on our previous track record."
"We are very proud of Piran's commitment to the mission of discovery and the distinction he brings to the school of engineering," said Dean Philippe Fauchet.
ORAU, a 121-member consortium of major PhD-granting academic institutions, cultivates collaborative partnerships that enhance national scientific research and education enterprise.
Contact: Brenda Ellis, (615) 343-6314
Brenda.Ellis@Vanderbilt.edu
Posted on Thursday, July 5, 2018 in 2D nanomaterials, Nanomaterials, ORAU, ORNL, Piran Kidambi, Ralph E. Powe Junior Faculty Enhancement Award,Alumni, Chemical and Biomolecular Engineering, Home Features, Media, News, News Sidebar, Research