Ceremony June 25 to recognize ESB, Eskind Library LEED Gold status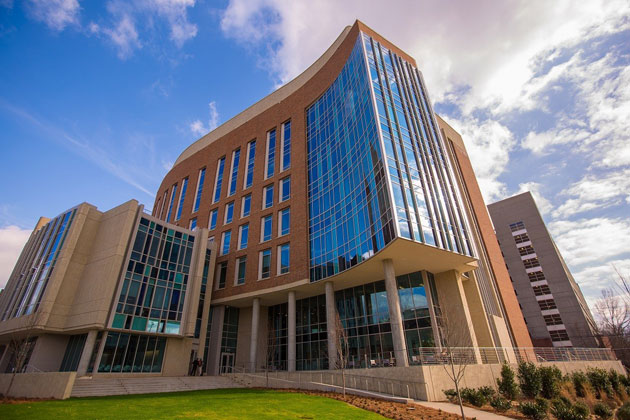 Vanderbilt will be recognized for its sustainable building efforts on Tuesday, June 25, when U.S. Green Building Council President and CEO Mahesh Ramanujam presents the university with a plaque designating the Engineering and Science Building and Eskind Biomedical Library with LEED Gold status.
LEED, or Leadership in Energy and Environmental Design, status is the rating system used to rank buildings of all types as either Certified, Silver, Gold or Platinum based on a building's environmental and cost-saving green features. The Engineering and Science Building will be the university's 19th LEED-certified building.
Vanderbilt Chancellor Nicholas S. Zeppos will join Vice Chancellor for Administration Eric Kopstain and Ramanujam for remarks beginning at 2 p.m.
All in the Vanderbilt community are invited to attend the ceremony in the Engineering and Science Building lobby, immediately followed by a tour highlighting the building's sustainability features.
In April, Zeppos announced that the university will carry out a comprehensive long-term strategy to significantly reduce its environmental footprint. The sustainability goals fall under FutureVU, Vanderbilt's holistic planning process for developing spaces on campus and investing in initiatives that support the people who live, work and learn in them.
For more information, visit the FutureVU website.
Contact: Brenda Ellis, (615) 343-6314
Brenda.Ellis@Vanderbilt.edu
Posted on Thursday, June 20, 2019 in Engineering and Science Building, ESB, FutureVU, Gold LEED status, Leadership in Energy and Environmental Design,Alumni, Biomedical Engineering, Electrical Engineering and Computer Science, Engineering & Science Building, Home Features, Mechanical Engineering, Media, News, News Sidebar