DC innovation showcase to feature student-led Zeno Power Systems
The Vanderbilt University students behind Zeno Power Systems, a clean energy company that could serve schools and hospitals in remote locations, will discuss their path to entrepreneurship Wednesday at The University Innovation and Entrepreneurship Showcase in Washington, D.C.
Hosted by the Association of Public and Land-grant Universities and the Association of American Universities, the event will spotlight 20 startup teams from across the nation that created products and services using federally funded, university-based research.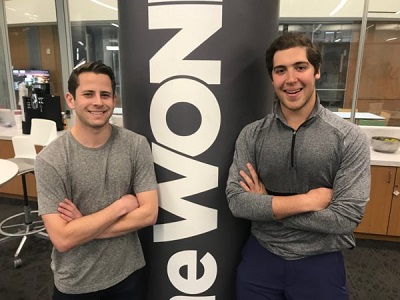 Tyler Bernstein, a junior majoring in computer science; Jonathan Segal, a senior majoring in human and organizational development; Jake Matthews, MS '18 in mechanical engineering; and Steven Krahn, professor of the practice of nuclear environmental engineering, launched Zeno Power Systems. It began as an effort to rethink the aviation industry by providing an alternative to jet fuel, but the team quickly refocused to applications on the ground.
"We're using radioisotopes – a resilient, clean energy source – in a device no larger than a tabletop that potentially could power even small villages that currently rely on diesel or coal," said Bernstein, the CEO. "Our device could fuel critical infrastructure for months or years with no maintenance."
The team completed the National Science Foundation's National Innovation Corps program, which provides grant money and entrepreneurship training, and received a Small Business Innovation Research grant and other federal funds.
Bernstein and Segal said Vanderbilt supported their efforts by allowing their internship requirements to be fulfilled through working in their own company.
"Not only have we received the education and skills we need to be successful, we've also received encouragement and support for entrepreneurship," Segal said. "That's critical to launching a company at the same time as completing a degree."
A selection committee comprised of innovation experts chose the startups to be featured at the April 10 event based on level of student engagement plus the strength of the technology and its connection to research.
Members of Congress, their staff, and national economic development and innovation policy leaders will attend the showcase to learn the importance of federally funded university research in driving entrepreneurship and the U.S. innovation economy. Speakers will include U.S. Patent and Trademark Office Director Andrei Iancu; National Institute of Standards and Technology Associate Director for Innovation and Industry Services Phillip Singerman; House Science, Space, and Technology Committee Chair Eddie Bernice Johnson and Ranking Member Frank Lucas; APLU President Peter McPherson; and AAU President Mary Sue Coleman.
by Heidi Hall
Posted on Monday, April 8, 2019 in clean energy, entrepreneurship, innovation, NSF, radioisotopes, startups, Steve Krahn,Alumni, Electrical Engineering and Computer Science, Home Features, Mechanical Engineering, News, News Sidebar, Research