Outstanding graduates recognized at 2019 Engineering Commencement Reception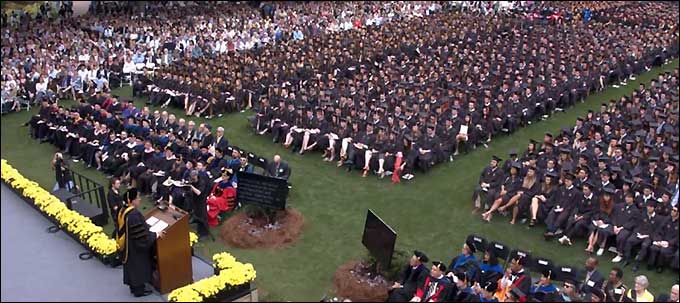 Philippe Fauchet, Bruce and Bridgitt Evans Dean of Engineering, presented awards and honors to seniors May 9 at the school's annual Commencement Reception.
David K. Zhang of Clarksville, Tennessee, is Founder's Medalist for the School of Engineering. He is graduating as a triple major in computer science, mathematics and physics and with a minor in scientific computing.
Zhang pursued research opportunities in each majors. He conducted research in physics under the supervision of Professor Kálmán Varga, mathematics research with Professor Douglas Hardin, a faculty leader in the Minimal Energy Group, and engineering research with Professor Eugene Vorobeychik.
Zhang has served as co-founder and secretary of ACM@Vandy, the university's chapter of the Association for Computing Machinery. In this role, he organized and led numerous career development events, including resumé reviews and mock interviews.
Zhang will pursue doctoral studies in applied mathematics and scientific computing at Stanford University.
The Founder's Medal was endowed by Commodore Cornelius Vanderbilt and signifies first honors for each graduating class from Vanderbilt's schools. The gold medal has been awarded since 1877. The recipient is named by the dean after consideration of faculty recommendations as well as grade point averages of the year's summa cum laude graduates.
Ian D. Faucher, son of Linda Larimer and Bob Faucher of Boise, Idaho, will lead 2019 engineering graduates to their Commencement seats as the School of Engineering's banner bearer.
Faucher is graduating with a degree in civil engineering and economics. He has been president of the Men's Club Soccer team and has served as an officer in the university's chapter of the American Society of Civil Engineers. Faucher also has worked with Vanderbilt administration on sourcing renewable energy for the university's energy needs.
After graduation, Faucher will be an associate at Boston Consulting Group in the firm's Boston office.
The distinction of Banner Bearer is awarded to the senior engineering student who has been judged by the faculty of the School of Engineering to have excelled in all aspects of his or her undergraduate career. Miti Virendra Joshi is the recipient of the Dean's Award for Outstanding Service. Joshi will graduate with a degree in computer science with a minor in financial economics. She is the daughter of Virendra and Jagruti Joshi of Mumbai, India. After graduation, she will work as a program manager at Microsoft.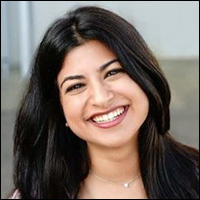 Joshi founded Vanderbilt Women in Computing in her sophomore year. WiC creates an inclusive space that empowers female students to pursue their interests in computing by offering resources, opportunities, and mentorship.
In her junior year, she started Emerge, an important emerging technology conference in the southeast. The first two conferences focused on virtual reality and virtual intelligence. She also has served as a teaching assistant for CS 1101, the introductory computer science course, and engaged in community service through Code Ignite.
Additionally, Joshi has pursued research in the fields of virtual and augmented reality with Professor Robert Bodenheimer through the School of Engineering Summer Research Program and during the academic year.
Throughout her time at Vanderbilt, Joshi has participated in many of the international dance showcases on campus, including Diwali, Harambee and Café Con Leche.
Dean Fauchet recognized 21 students who achieved summa cum laude distinction:
Allison Albright, Alpharetta, Georgia
Louisa Grace Allan, Austin, Texas
Nicholas Gerald Belsten, Melbourne Beach, Florida
Tashana Angelete Blair, Kingston, Jamaica
Amanda Louise Brandeen, Millersville, Maryland
Garrett Alejandro Camps, Melbourne Beach, Florida
Xiaoyi Dou, Pearland, Texas
Ian Dennis Faucher, Boise, Idaho
Pierce Stephen Finley, Longmont, Colorado
Andrew James Hamilton, Atlanta, Georgia
Jasper Lu, Brooklyn, New York
Qiutai Pan, Los Altos, California
Kristin Quah, Singapore
Jacob Matthew Rogatinsky, Hollywood, Florida
Keaton Lucas Scherpereel, Flagstaff, Arizona
Steven Thomas Sherk, Dayton, Ohio
Dominique Danielle Szymkiewicz, Miami, Florida
Abigale Grace White, Edmond, Oklahoma
Braden Yuchen Yang, Huntsville, Alabama
David K. Zhang, Clarksville, Tennessee
Other awards and honors
Program awards go to seniors who, in the opinion of the program faculty, made the greatest progress in professional development during their undergraduate careers.
The recipients are:
Biomedical Engineering: Dominique Danielle Szymkiewicz, Miami, Florida
Chemical Engineering: Allison Albright, Alpharetta, Georgia
Civil Engineering: Ian Dennis Faucher, Boise, Idaho
Computer Engineering: Viren Sawant, Plainsboro, New Jersey
Computer Science: Abigale Grace White, Edmond, Oklahoma
Electrical Engineering: Kristin Quah, Singapore
Engineering Science: Andrew James Hamilton, Atlanta, Georgia
Mechanical Engineering: Keaton Lucas Scherpereel, Flagstaff, Arizona
David K. Zhang received the Wilson and Nellie Pyle Miser Award, which is given to the senior who has excelled in all aspects of mathematics during the student's undergraduate career.
Kristin Quah received the Stein Stone Memorial Award, which is given to a senior who has earned a letter in sports and who is judged to have made the most satisfactory scholastic and extra-mural progress as an undergraduate.
The Arthur J. Dyer Jr. Memorial Prize is awarded to a senior who has done the best work in the study and/or design in use of structural steel, and who is a member of the American Society for Civil Engineers. The recipient is John Charles Fangmeyer Jr., Nicholasville, Kentucky.
The Greg A. Andrews Civil Engineering Memorial Award goes to an exemplary senior who plans to do graduate work in environmental and water resources engineering. The recipient is Eric Ronald Douglas, Franklin, Tennessee.
The Walter Gill Kirkpatrick Prize in Civil Engineering is given to the most deserving third-year student majoring in civil engineering. The recipient is William James Harlow, Nichols Hills, Oklahoma.
The Thomas G. Arnold Prizes for Biomedical Engineering Systems Design and Research is shared by Ethan Thomas Jones, Cookeville, Tennessee, for research, and the following students for design: Jacob Thomas Ayers, Saint Louis, Missouri; Dominique Danielle Szymkiewicz, Miami, Florida; Hannah Eunhae Kang, San Diego, California; Nora P. Ward, Frankfort, Illinois; Thomas John Yates, Cincinnati, Ohio; and Eric Christopher Yeats, Gainesville, Florida.
Lindsay Peyton Eller, Commack, New York, and Thomas Logan Guy IV, San Antonio, Texas, are recipients of the American Institute of Chemists Award, given on the basis of leadership, ability, character, scholastic achievement and potential for advancement in the chemical professions.
The W. Dennis Threadgill Award is given for outstanding achievement in chemical engineering in honor of a former faculty member and department chair. The award is shared by Mitesh Dakshesh Bhalani, Lawrenceville, Georgia, and Somtochukwu Cynthia Dimobi, Lagos, Nigeria.
The Robert D. Tanner Undergraduate Research Award is given to a senior who has conducted the best undergraduate research project in chemical engineering. The recipient is Robert Michael Weinstein, Rockville, Maryland.
The Walter Criley Prize is awarded for the best paper written on an advanced senior project in electrical engineering. The award is shared by Nick Gerald Belsten, Melbourne Beach, Florida; Rachel Emily Erbrick, College Park, Georgia; Emily Elizabeth Herron, Charlotte, North Carolina; and Liam James Kelly, Montclair, New Jersey.
The William A. Ma Award is given to an outstanding senior majoring in chemical engineering on the basis of a demonstrated record of leadership and scholastic achievement. The recipient is by Mitesh Dakshesh Bhalani, Lawrenceville, Georgia.
Class of 2019 members of Tau Beta Pi engineering honor society are:
Syafiq Abdur Rahman, Subang Jaya, Malaysia
Allison Grace Albright, Alpharetta, Georgia
Tyler Grant Anderson, Barrington, Illinois
Nicholas Gerald Belsten, Melbourne Beach, Florida
Mitesh Dakshesh Bhalani, Lawrenceville, Georgia
Keegan Maguire Campanelli, Palmyra, Virginia
Garrett Alejandro Camps, Melbourne Beach, Florida
Yifan Chen, Chengdu, China
Elizabeth Jean Curvino, Atlanta, Georgia
Xueying Ding, Nanjing, China
Lindsay Peyton Eller, Commack, New York
Tristan Alexander Gilbert, Evergreen, Colorado
Dalton Ray Gullett, Windermere, Florida
Andrew James Hamilton, Atlanta, Georgia
Jiuke Huang, Chengdu, China
Andrew David Hunt, Birmingham, Alabama
Matthew Conrad Johnson, Pasadena, California
Ethan Thomas Jones, Cookeville, Tennessee
Liam James Kelly, Montclair, New Jersey
Christopher Mohammad Khan, Franklin, Tennessee
Tamas Adam Kis, Tampa, Florida
Hannah Riley Knight, Cape Girardeau, Missouri
Kelsey Claire Louise Leeburg, Boulder, Colorado
Andrew Tian Yu Li, Bolingbrook, Illinois
Mohamad Ali Yazdani Mehrdad Yazdani, Kota, Malaysia
Irfan Sabri Bin Mohd Sabri, Nilai, Malaysia
Luke David Hall Neise, Wildwood, Missouri
John Francis Noyes, Bethesda, Maryland
Brandon Cole Paikoff, Stanford, California
Kristin Quah, Singapore
Keaton Lucas Scherpereel, Flagstaff, Arizona
Samantha Seitz Simon, Hewlett, New York
Masturina Sahira Sukri, Kota Bharu, Malaysia
Alana Claire Suter, The Woodlands, Texas
Anthony Adkins Swenson, Nashville, Tennessee
Chengtian Yan, Shanghai, Oreg., China
Chong Zhao, Beijing, China
Contact: Brenda Ellis, (615) 343-6314
Brenda.Ellis@Vanderbilt.edu
Twitter @VUEngineering
Posted on Thursday, May 9, 2019 in 2019 Banner Bearer, 2019 Engineering Commencement Reception, 2019 Founder's Medal, 2019 program awards, Commencement, student awards, summa cum laude graduates,Alumni, Biomedical Engineering, Chemical and Biomolecular Engineering, Civil and Environmental Engineering, Electrical Engineering and Computer Science, General Engineering, Home Features, Mechanical Engineering, Media, News, News Sidebar