Vanderbilt Engineering and Science Building wins international S-Lab Award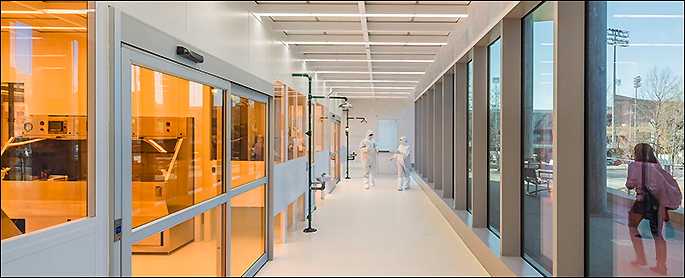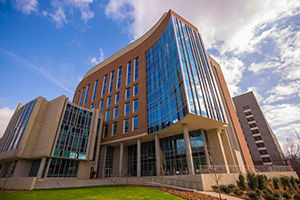 Vanderbilt's Engineering and Science Building has won an international S-Lab award in the category of Engineering and Related Buildings for Wilson HGA, a national design and architecture firm specializing in science and technology facilities for higher education.
S-Lab awards recognize excellence in science buildings, equipment, facilities and management. Designed by Wilson HGA, the 230,000-square-foot, seven-story building opened in 2016.
"It was not only an honor to receive the award on behalf of Vanderbilt, but also it was a singular thrill to have global colleagues asking questions about our successful design while they plan their own future facilities," said John Sloop, associate provost for education development and technologies and professor of communication studies.
Sloop accepted the award and delivered a presentation—Vanderbilt University's Engineering and Science Building: Propelling Growth in Applied Research, Entrepreneurial Partnerships and Ideas Incubation—at the global S-Lab conference at the University of Birmingham, United Kingdom, in April.
Based in the UK, S-Lab is a not-for-profit initiative that works with universities, research institutes and other laboratory sectors to support best practice in laboratory design, operation and management internationally.
S-Lab winners are selected by a panel of experts with laboratory experience, including facilities managers, university-funding bodies, academic researchers and independent experts.
The building houses interdisciplinary research laboratories, nanofabrication clean room, imaging suites, core laboratories, classrooms, undergraduate commons, and the Wond'ry, a three-story innovation center designed to incubate ideas and connect students and faculty with technology transfer and industry mentors. The ESB is LEED Gold certified.
The lab space within the ESB is designed for maximum flexibility. ESB's five floors of labs contain two fitted out, and three as warm shell. The shell space on the upper floors has bio and synthetic capabilities, while the lower floors have high bay and high-performance characteristics.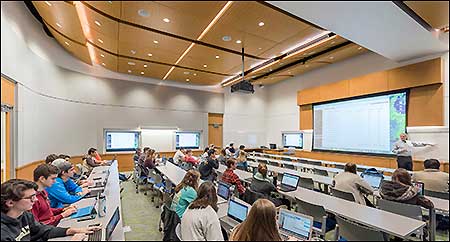 The basement level of the ESB contains more traditional learning spaces, including two, 60-seat classrooms equipped with state-of-the-art technology and equipment. Less formal teaching spaces are located throughout the upper levels of the building
"We want to continue to attract and recruit the best students and provide them with exceptional research experiences at the undergraduate and graduate levels," said Philippe Fauchet, Bruce and Bridgitt Evans Dean of Engineering. "This facility allows for even greater collaboration between students and faculty across disciplines, so we can deliver scholarship of the highest caliber to address important societal issues."
Contact: Brenda Ellis, (615) 343-6314
Brenda.Ellis@Vanderbilt.edu
Posted on Monday, June 3, 2019 in Engineering and Science Building, ESB, S-Lab Award, science and technology buildings, Wilson HGA,Alumni, Biomedical Engineering, Chemical and Biomolecular Engineering, Civil and Environmental Engineering, Electrical Engineering and Computer Science, Engineering & Science Building, Home Features, Mechanical Engineering, Media, News, News Sidebar, Research