Julianne Vernon named engineering school's interim associate dean for academic success
Julianne Vernon has been appointed interim associate dean for academic success in the Vanderbilt School of Engineering by Philippe Fauchet, Bruce and Bridgitt Evans Dean of Engineering. She fills a role previously held by William H. Robinson, who has been appointed the university's vice provost for academic advancement and executive director of the Provost's Office for Inclusive Excellence.
"Julie has extensive experience in academic assessment, academic counseling, first year engineering programs, and minority participation in STEM programs. She has been a valuable asset to the engineering leadership team for the past two years. I look forward to her guidance in this new role," Fauchet said.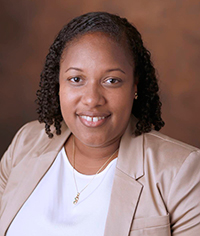 Vernon will work on expanding and facilitating access of undergraduate students to resources, such as undergraduate research, tutoring and student technical societies as well as transition programs to increase students' success in fundamental engineering courses.  Her work also will encompass success of engineering graduate students, especially those from underrepresented groups, through mentorship and professional development initiatives.
"I am looking forward to pursue this new challenge and honored to fill this role in the School of Engineering.  I am delighted to be able to broaden my reach to help students be successful in their academic and future careers," Vernon said.
Vernon will continue serving as assistant dean for academic programs and manage the initiatives on first-year experience, study abroad and international recruitment.
She is a research assistant professor of chemical and biomolecular engineering and an engineering educator. Her work in education research has been published by the American Society of Engineering Education.
Vernon received a bachelor's degree in chemical engineering from the City College of New York. She went on to work for the NYC Department of Environmental Protection as a wastewater process engineer for several years.
Her research interests led her to complete a doctorate in environmental engineering from the University of Florida. She has more than nine years of experience in project management, as well as in the development of international and national research experiences for STEM majors.
Upon completing her doctorate degree, she coordinated the international research program for the National Science Foundation's Louis Stokes Alliance for Minority Participation (LSAMP) program at City University of New York.
Prior to joining the School of Engineering, Vernon was first a postdoctoral researcher at the Center for Research on Learning and Teaching at the University of Michigan. Subsequently, she became the research program officer for an institutional Howard Hughes Medical Institute grant to improve retention in STEM fields across the University of Michigan.
Contact: Brenda Ellis, 615 343-6314
brenda.ellis@vanderbilt.edu
Posted on Thursday, June 4, 2020 in academic programs, academic success, engineering education, Julianne Vernon, student success,Alumni, Chemical and Biomolecular Engineering, Home Features, News, News Sidebar