Barth appointed faculty head of house, joining The Ingram Commons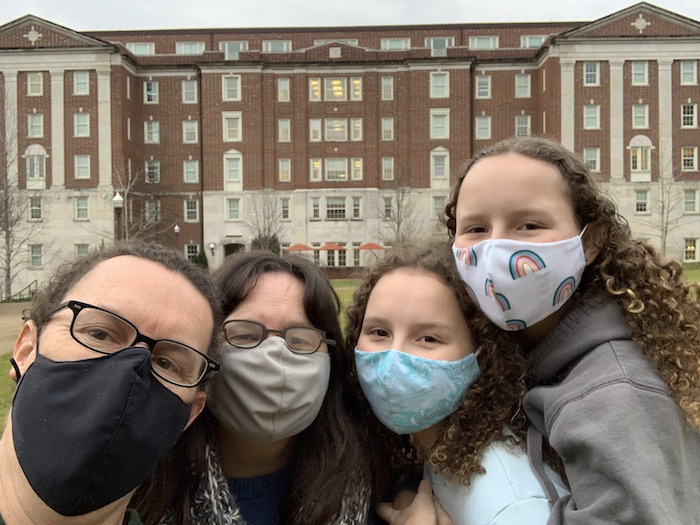 Eric Barth, associate professor of mechanical engineering, has been named the faculty head for one of the ten houses that make up The Martha Rivers Ingram Commons.
Barth, his wife Helen, and their twin 14-year-old daughters, Nola and Kira, will move into the faculty apartment of Hank Ingram House in July.
"We have been excited about this since Vanderbilt started the concept," he said. "We really are doing this as a family."
Faculty heads put their own stamps on their houses, academically and otherwise.
"The feeling I'd like to bring is that engineering is about people, and it is a creative endeavor," Barth said. "I want to capture that idea and introduce first-year students to how engineering can make a real impact."
When he was an engineering physics major at the University of California-Berkeley, Barth sought out a specific professor and volunteered to help with his lab's research. The professor obliged, which led Barth to two summers of work in that lab and an internship at then-Lawrence Berkeley Laboratory.
"That really launched me into research and the idea that faculty are 'normal' people and you can talk to them," he said. "I will say that as an undergraduate, interacting with faculty really was something that changed my life."
The head of house role is a chance to more purposefully engineer those interactions, Barth said.
He joined the Vanderbilt faculty in 2000. His most recent research efforts focus on soft robots, MRI-compatible surgical robots and artificial hearts. Soft robots are a new class of robots that are rubbery and excel at interacting with objects and people. His research with soft robots focuses on actuating them, both pneumatically and hydraulically, and modeling their movements and forces. He also is investigating the treatment of epilepsy by replacing open brain surgery with a robotically steered helical needle, and his research on artificial hearts addresses the challenge of designing a pump that can be fully implanted with a battery wirelessly charged through the skin.
"Almost everything we do is about bettering people's lives," Barth said.
In addition to sharing more about their academic pursuits, faculty heads of house build relationships with students. They host a weekly signature event providing an opportunity to develop friendships and exhale after tackling a full day of classes. These events give students a chance to get to know faculty on a more personal basis. Working closely with the resident advisers, faculty also support students and connect them to campus resources throughout the year.
"Vanderbilt undergraduates tell us that their interactions with residential faculty are a key factor in their intellectual growth and community engagement," said Vanessa Beasley, vice provost for academic affairs and dean of residential faculty. "The Commons is the first community that students form on campus, and their faculty heads of house are often their first—and for some, one of their more important—faculty connection."
"I am so excited for the students to have an opportunity to get to know and learn with our new faculty heads," she said.