Thea Henslee: First PhD student in partnership with U.S. Army Corp of Engineers' R&D Center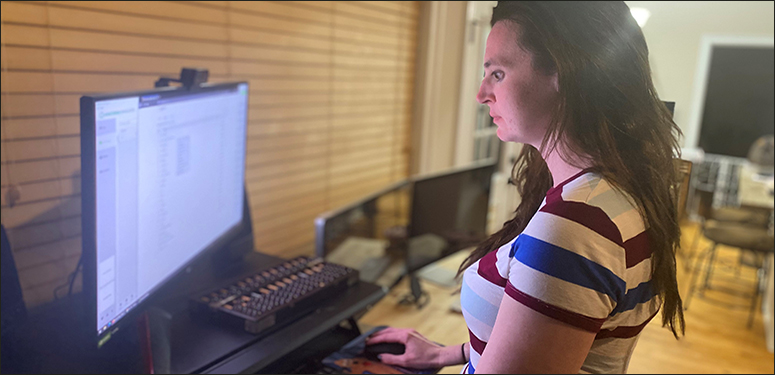 Thea Henslee is an Army civilian in the Corp of Engineers, a computer scientist, and a doctoral student in the School of Engineering.
She is the first service member to enter a Vanderbilt engineering Ph.D. program within a partnership agreement between the U.S. Army Corp of Engineers' Research and Development Center and the Vanderbilt University School of Engineering. Corps of Engineers employees take Vanderbilt engineering courses through the ERDC Graduate Institute course offerings.
"When I learned about the partnership between ERDC and Vanderbilt, it was a no-brainer for me. Vanderbilt gives me the chance to study machine learning in depth in a high-caliber program while also continuing to live and work in Mississippi," she said.
Henslee is on a team that specializes in data analytics and machine learning for the Computational Analysis Branch at the ERDC in Vicksburg, Mississippi. "We work on a very wide range of USACE problems—anything from soil data to military construction to Operation Warp Speed," she said. Operation Warp Speed is a public–private partnership initiated by the United States government to facilitate and accelerate the development, manufacturing, and distribution of COVID-19 vaccines.
Her first class this spring is Visual Analytics and Machine Learning taught by Matthew Berger, assistant professor of computer science and computer engineering.
A grandfather's legacy
Althea grew up in Starkville, Mississippi, the only child of a single mom and with grandparents who were a huge part of her childhood.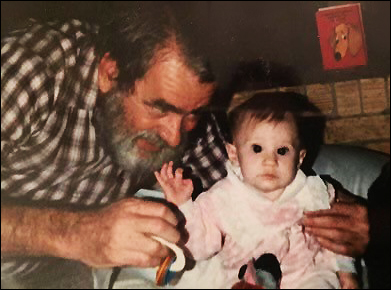 Her grandfather, James Gassaway, was an electrical engineering professor at Mississippi State University. "I literally grew up on campus," she said. "At a year and a half old, I was hanging out on a blanket on the floor of my grandfather's classrooms while he taught…before getting a place at the child development center on campus."
Henslee's grandfather has had the biggest influence on her life. "He was a huge advocate for education. He was the first member of our family to go to college. With the GI bill after he left the Army, he was able to earn a mechanical  engineering degree at Ole Miss and a Ph.D. in electrical engineering at Purdue. He made sure his three younger siblings, my grandmother, my mom and her sisters, and I, were able to get college educations," she said. "And he was a huge advocate for me."
His death in 2015 pushed Thea to return to school and it led to a major career change.
Henslee's first master's degree is in English and she taught composition and American literature at the junior college and university level for nearly 13 years. When her grandfather died, she decided to make some difficult choices.
"His death was such a terrible blow to me personally. After I survived that, I felt like I could survive engineering, and I knew he always wanted me to get a degree in engineering," she said.
A busy life
Hensley had become a single mother with three daughters, routinely teaching multiple overload classes for extra pay. "I couldn't survive financially. Before my grandfather's death, he was aware of the situation I was in, and he told me to bring my girls and come home, to go back to school, or make a new plan."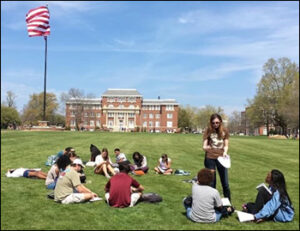 "I had this crazy idea to go back to school and get a degree in computer science," she said. "Ultimately, that's what I did. I swallowed my pride, went home, and got a position as a lecturer in the English department at Mississippi State University."
As a university employee she was entitled to 6 hours of tuition every semester. For three years, Henslee taught full time, took classes as an engineering student—9 to 10 hours several semesters—and was a single parent. At the end of those three years, she had a master's degree in computer science and a new job with the Corp of Engineers.
Henslee is remarried and her husband, Cole, who works in the tech industry, encouraged her to apply to Vanderbilt.
"He is my best friend and biggest supporter. I have three daughters, Kate, 13; Samantha, 9; and Mary Beth, 6; none of whom want to follow in my footsteps," she said, and laughed.  "And we have three dogs ,two Siberian huskies and one rescued Spitz, who we couldn't imagine living without but have also eaten half our house—doorframes, walls, antique furniture, rugs, two pair of Ray-Ban sunglasses, and countless shoes."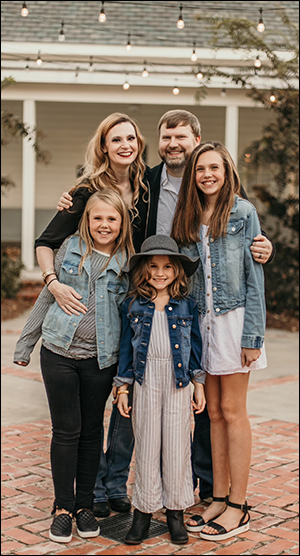 A busy work life
The range of tasks is one of Henslee's favorite things about working for the ERDC.
"We're always working on something new; the scenery is never the same. Working for ERDC is one of the best decisions I've made because it gives me the opportunity every day to serve my country, to solve very real problems, and to make an impact on so many lives."
Because she has spent her adult life as a public servant and comes from a family of public servants and military service, being an Army civilian is really a natural choice, she said. Henslee also calls her ERDC team a family who have been an incredible source of support during the pandemic.
"Also, that's one of the great things about working for the Army. It provides life-changing opportunities."
Like a Ph.D. "For me, it's one more way to give back. From service to my country as an expert in my field and by bringing more recognition to the ERDC and the work we do," Henslee said.
"On a personal level, it's because I am my grandfather's granddaughter. And, it's because I have three daughters and I want them to know they are capable of far more than the world realizes."
Contact: Brenda Ellis, 615 343-6314
brenda.ellis@vanderbilt.edu