Zelik named Emerging Leader by Chamber, YP Nashville
An assistant professor of mechanical engineering has been named an Emerging Leader by the Nashville Area Chamber of Commerce and YP Nashville.
Karl Zelik, who joined the School of Engineering faculty in 2014, received the distinction in the Architecture, Engineering & Construction category. He was among 75 finalists in 15 categories.
His commitment to STEM outreach with lab tours to younger local students and through organized diversity and inclusion initiatives at Vanderbilt University and beyond were among the factors considered.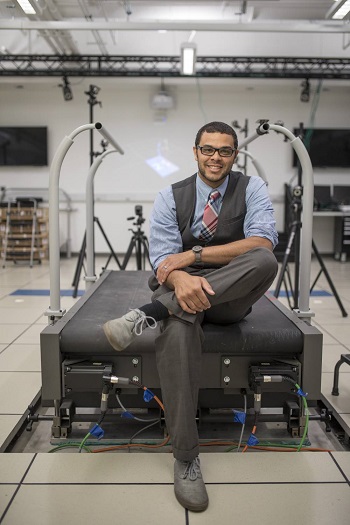 "I'm extremely grateful," Zelik said. "I get to do work that I love and to share it with students and the general public because of my supportive family — most importantly my wife Tiffany — and because of the extraordinary mentors, colleagues, students and collaborators I've had.
"It was humbling to hear about all the ways NELA Finalists have been impacting the Nashville community and beyond. It was a very positive and inspirational event. I was thankful to be a part of it, and thankful that our engineering research and community outreach activities were so well received," he said.
Zelik, who received top awards from the International Society of Biomechanics and the American Society of Biomechanics for early career research in 2017, focuses on improving mobility for lower-limb prosthetic users and others with mobility impairments or physical disabilities. Investigating the biological structures and mechanisms behind human movement – joints, muscles and tendons – helps to design better prosthetic limbs and other assistive devices such as orthoses, robotic exoskeletons and even "smart underwear," an upper body wearable to offload back stress.
He has been on the National Organizing Committee for National Biomechanics Day since 2016; led the engineering's schools National Biomechanics Day events since 2015; served as a research adviser for local high school students; and also set up a booth at the Nashville Maker Faire to share research with community members beyond Vanderbilt. He is also a co-founder and co-director of CREATE at Vanderbilt – the Center for Rehabilitation Engineering and Assistive Technology.
In announcing the awards, Ralph Schulz, president and CEO of the Nashville Area Chamber of Commerce, said Nashville's ability to attract young, quality professionals helps set it apart from peer cities.
"Having young leaders who are passionate about the vitality of our region is critical as we face opportunities and challenges for growth," Schulz said. "We are fortunate to have young leaders whose commitment to both career and community service demonstrates a clear vision for the type of city we want to be."
Emerging Leaders also were named in Arts, Entertainment & Music Business; Business Services; Community Service & Nonprofit; Education; Environment and Sustainability; Financial Services;
Government & Public Affairs; Hospitality & Tourism; Human Resources; Legal Services; Medical & Health Care Services; Public Relations, Advertising & Marketing; Real Estate Services; and Technology.
The event was held Aug. 27 at Lipscomb University's Collins Alumni Auditorium.
Posted on Tuesday, July 31, 2018 in assistive technologies, biomechanics, CREATE, Karl Zelik, Nashville Emerging Leader awards,Home Features, Mechanical Engineering, News, News Sidebar