Zeno Power: Vanderbilt's NSF I-Corps team makes an impact through innovation
Since the inception of the Vanderbilt I-Corps Site Program just three years ago, more than 20 teams of VU innovators have been accepted into the National Science Foundation's prestigious National I-Corps Program, turning their STEM ideas and research into novel inventions that improve health care, strengthen cybersecurity, produce clean energy, support people battling drug abuse and mental health disorders, and more.
Zeno Power is one of the dynamic startups to emerge from the Wond'ry's entrepreneurship programs, where teams receive micro-grant funding and the NSF's National I-Corps experience, from which they received an additional $50,000. Since completing I-Corps, this company has continued to grow and reflect the spirit of innovation at Vanderbilt.
Zeno Power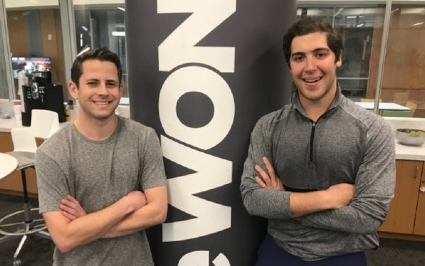 From deep sea to deep space, Zeno Power is revolutionizing clean power production through a microwave-sized device that generates electricity for decades without needing maintenance or refueling. Ideal for use in remote, austere settings, the technology works by converting recycled nuclear waste—decaying radioisotopes—into electricity, resulting in clean power applicable in any environment.
Tyler Bernstein, BE'20; Jonathan Segal, BS'19; Jake Matthews, MS'18; and Steven Krahn, professor of the practice of nuclear environmental engineering, can boast of several notable accomplishments since completing the National I-Corps program in 2018 as Vanderbilt's first-ever undergraduate team.
After establishing Zeno Power as a full-fledged company with many interested customers, Bernstein and Segal were named to the 2020 Forbes 30 Under 30, and Zeno Power participated in the Techstars Starburst Space Accelerator, where they met with 120 experts in the space field. From there, they received a government contract and raised seed funding to begin building their technology, and most recently, were funded through a Phase II Small Business Innovation Research award. The NASA Jet Propulsion Laboratory also invited them to a full-day brainstorming session, where they discovered compelling uses of their technology for space missions that are infeasible with current power sources.
"As the chief technology officer, it's pretty exciting to finally start building this technology we have been designing and thinking about for so long," Matthews said. "As someone who wanted to be an astronaut after serving five years in the Army, it was especially meaningful to have worked in a Vanderbilt lab on space manufacturing supported by a NASA grant and to now build a power generator that may go to the moon."
Going into space, however, may be just the tip of the iceberg for Zeno Power. "We strongly believe in nuclear power as part of the portfolio of clean energy sources to achieve carbon neutrality and fight climate change," said Segal, chief operations officer. "We have the opportunity to make use of nuclear waste material and thus support the development of next-generation reactors that could safely generate clean power for even our largest cities."
The team at Zeno Power credits their I-Corps experience and the Wond'ry's critical guidance for launching them through the early stages of their success. "I-Corps really teaches you that unless you're meeting customers' needs, it doesn't matter how neat your technology is," said Krahn, chief safety adviser. "A focus on customers' needs will guide your technical innovation and allow you to adapt."
"The Wond'ry was a fantastic resource and a great home for us as innovators and entrepreneurs," added Bernstein, chief executive officer. "I often wonder, if we went to Vanderbilt four years prior—before the Wond'ry existed—would we have the motivation and the resources to be where we are today?"
The Wond'ry and the Vanderbilt Institute for Surgery and Engineering, guided by the mission of the Office of the Vice Provost for Research, collaborated with the NSF to create the Vanderbilt I-Corps Site Program in 2017.
By Jenna Somers
Read more>>
CS undergrad exploring radioisotope power named to Forbes 30 Under 30 List Feb. 4, 2020
DC innovation showcase to feature student-led Zeno Power Systems April 8, 2019
---
Contact: Brenda Ellis, 615 343-6314
brenda.ellis@vanderbilt.edu
Posted on Wednesday, March 24, 2021 in I-Corps, Jonathan Segal, NSF, Steven Krahn, Tyler Bernstein, Vanderbilt-based I-Corps program, Zeno Power,Civil and Environmental Engineering, Home Features, News, News Sidebar